Seniors give gallery exhibition
Published by Concordia University, Nebraska 10 years ago on Fri, Feb 24, 2012 12:33 PM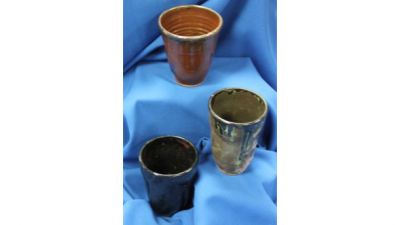 An individual's concept of the cup was the basis for these pottery pieces that are part of the collection created by Joshua Osienger for his senior exhibit.
Eight Concordia seniors showcased their artwork in the spring Bachelor of Fine Art Thesis Exhibition March 25 - April 13 in the Marxhausen Gallery of Art.
According to Professor of Art James Bockelman, the senior exhibition is meant to show the achievements of artists in upper level undergraduate studio art courses. The exhibit also challenges the students to take initiative and responsibility for creating and organizing such an event.
Senior Joshua Osienger of Mitchell, Neb., showed his pottery collection. "I had a goal of 1,000 pieces of pottery," he said. To gain inspiration for his work, Osienger encouraged others to draw pictures of cups in his sketchbook. "Many people have opinions about what they think a cup should be, what it should look like and even how much it should weigh. So I decided to confront people about what they want." Osienger offered a few basic guidelines for the sketches, and then turned the two-dimensional drawings into three-dimensional ceramic cups. His display also featured plates and bowls, all of which were for sale.
Featured artists:
Hannah Woollen, Wilcox, Neb.
Todd Meier, Kansas City, Mo.
Rachel Ahlers, Pierce, Neb.
Kelly Downs, Belleville, Ill.
Michael Carlson, Hermantown, Minn.
Joshua Osienger, Mitchell, Neb.
Paul Rowlett, Lodgepole, Neb.
Kristin Easler, Fredericksburg, Va.
The Marxhausen Gallery is the on-campus exhibition space for Concordia and hosts a variety of exhibitions each year. It is located in Jesse Hall and is open Monday-Friday 11 a.m.-4 p.m. and Saturday and Sunday 1-4 p.m.