Senior Kara Einspahr thanks alumni and friends for support
Published by Concordia University, Nebraska 7 years ago on Tue, Apr 7, 2015 10:01 AM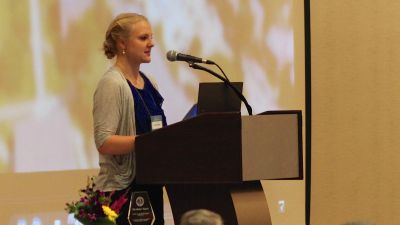 Concordia senior Kara Einspahr thanks alumni and friends of Concordia for their generosity.
Concordia senior Kara Einspahr of Seward, Nebraska, recently thanked alumni and friends of Concordia, on behalf of all Concordia students, for their generosity at its annual Thank You Celebration.
Einspahr is pursuing degrees in biology and Spanish. Currently in the pre-medicine program, she plans to attend The University of Nebraska Medical Center in the fall of 2015. A daughter of Dr. Kent and Mrs. Beth Einspahr, Einspahr is a native of Seward and a graduate of Lincoln Lutheran High School.
Einspahr's involvement and leadership during her time at Concordia have been a tremendous blessing to fellow students and the Concordia community. She serves on the Student Senate, as a peer tutor and as co-chair of the annual Phonathon. She has a passion for serving others, evidenced by multiple mission trips to Alaska and Haiti, with another to Haiti planned for this summer.
As she addressed those in attendance, Einspahr recounted how her four years at Concordia have shaped her life and thanked attendees for their support:
Good evening.
I want to start by saying thank you. It is an honor to represent the Concordia student body and express our appreciation for each one of you. We are all here because Concordia is an important part of our lives, and you have been an important part of allowing the university to educate and build up so many students. You understand the value of a Christian education and the Concordia experience, and I'd like to share with you what that experience has meant for me.
For the past four years, and in fact, for most of my life, Concordia has been home to me. With my dad serving as a professor, I grew up attending home games, playing by the rocks where there once was the pond, sledding down the hills on the practice field, and stopping in the science building to visit my dad on my walks home from school. Deciding to attend Concordia was not a difficult decision for me. In fact, I'm not sure you could call it a decision at all. The idea of spending these four years somewhere else barely even crossed my mind.
When I began at Concordia, I had no idea what the next four years would bring me. I expected I would get a little smarter, a little wiser, and a little closer to being, as one of my friends likes to say, a "real adult". I planned to get a good education and hoped that I would be accepted into medical school when the time came. I looked forward to meeting new people and spending more time with the friends I already knew. But what I didn't know or expect were the plans God had for my time here. I knew Concordia felt like home but I didn't know just how many opportunities God would offer me through this university - opportunities that would not be the same without your generous support.
So what has God done for me through Concordia? For one, Concordia has taught me to be a leader. When I entered college, I enjoyed getting involved and could handle responsibility, but I always liked to be a part of a group, never the one leading the group, never the one in the spotlight. I didn't expect to come across the opportunities to be a student manager, to be a co-chair of the phonathon, to be a Student Senate officer, or to lead a mission team or a Bible study. And I certainly didn't expect to enjoy taking on the role of leadership. But through these various positions and the encouraging advisors in charge of them, I have grown confident in myself so that I am able to not only lead a group of peers, but to enjoy the responsibility. Through the opportunities I found at Concordia, I feel equipped to serve as a leader if such a calling arises in the future.
Concordia has also provided me with the resources I need to succeed. Here, I have been surrounded by people who share and support my faith and meet with me regularly to praise our Lord and encourage one another. I have had the opportunity, at a small university, to be involved in a wide variety of activities, including intramurals, clubs, and on-campus jobs, all of which have helped me to grow and allowed me to branch out and meet more people. I have received a great education that has prepared me well for medical school. The quality of the education here and the other resources Concordia offers were demonstrated in my own life in October, when two other Concordia students and myself were granted early decision acceptance into medical school for next year. At Concordia, I have built a solid foundation on which to begin the next phase of life.
The professors here have been an especially great blessing. They have shown me how to see my own DNA in Genetics, instituted a "torture your partner" lab period when learning about reflexes in Anatomy, and offered live demonstrations of the emergency shower and how to roll in the fire blanket during Chemistry Lab. They have brought Bible stories to life in Old Testament class, and held discussions about history, politics, faith, and literature in different languages in Spanish and Mandarin classes. They have taken the time to ask how I am and have continued to share their faith and encourage others even in times of close personal loss. I can honestly say that they have cared about me not only as a student, but also as a person, encouraged my passion for learning, made difficult material fun, and inspired me to incorporate my faith into everything I learn.
Finally, most importantly, Concordia has reminded me to always keep at the focus the real reason for doing anything and everything. As an almost- medical student, it is tempting to focus on the salary and reputation I might have in the future. As a traveler, it is tempting to focus on all of the incredible experiences I can bring back as stories to share. As a fiancé, it is tempting to focus on how happy marriage might make me. While all of these blessings come along with the experiences, my time at Concordia has kept me focused on my original reasons for making these major decisions and the faith focus here serves as a constant reminder that earthly gain is not the end goal. At Concordia, I have learned how to accept a leadership role, but I have also been shown that I don't need the attention or the recognition. The Concordia environment has reminded me time and again that everything I do is for the glory of God who gave me these blessings, and for the opportunity to share His love with each person I meet.
I thought I was coming to Concordia for a good education in a Christian environment and a few fun years of living with my friends. But I was blessed with so much more. I was blessed with opportunities to grow personally, spiritually, and professionally. I was blessed with powerful relationships with both mentors and peers that I will be able to look back on as encouragement in the down swings of life. And I was blessed with an experience that has built me up to be not only ready, but excited, to see what the future holds. I also know that I am not alone in enjoying everything Concordia has to offer. Many of my fellow students could tell stories similar to mine, or stories that are quite different but equally as meaningful.
This has been my Concordia experience, and it wouldn't be complete without you. Having worked closely with the phonathon for four years, I have seen firsthand the importance of our friends and alumni who continue to support Concordia and its students. So many of us would not be able to attend this university and enjoy the blessings it offers without your support and generosity. I have personally received support from the scholarships you have provided, and on behalf of all my fellow students, I want to offer you my genuine appreciation for all you do for our campus and our students, and for being a part of equipping so many future teachers, pastors, doctors, nurses, artists, accountants, and others with the Concordia experience as they prepare to serve God and their neighbors wherever they may go.
Thank you.