Senior Jacob Garrison makes speech team history
Published by Concordia University, Nebraska 2 years ago on Thu, Oct 29, 2020 4:09 PM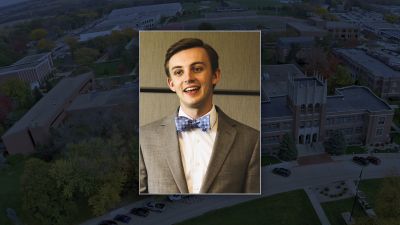 Jacob Garrison, a senior from Malcolm, Nebraska, has become the first four-time qualifier to the American Forensic Association (AFA) national tournament in Concordia speech team history.
Concordia's speech team members have strived to qualify for the AFA national tournament, the country's premier national competition, for the last four years, as a way to challenge themselves to compete against the best speakers in the country, Joe Davis, director of forensics, said.
"Jacob rose to that challenge and has been inspiring others to do the same these past few years," Davis said. "I believe his impact will result in a legacy of four-time AFA qualifiers year after year."
In each of the last four years, Garrison has qualified in the dramatic interpretation category and last year he also qualified in duo and prose. Although last year's national competition was canceled due to the COVID-19 pandemic, Garrison said he still learned from the experience each of the previous three years.
"The first two national competitions have taught me just how big of a world competitive speech is," he said. "Both were humbling experiences in which I was simply honored to be at the tournament, and I learned that just because there is a larger audience, it doesn't mean that I need to go over time. The cancellation of last year's tournament was sad, but also a reminder of just how privileged and blessed we are to be able to compete at all."
After being involved with his high school speech team, Garrison, an English major who plans to become a pastor, was recruited by Davis to participate at the collegiate level. Garrison said participating on the speech team has taught him some lessons that he'll be able to take with him into his vocation.
"As a hopeful future pastor, I will come in contact with people who are not of perfect accord with what I have learned, and in those times, it is important to keep the love of Christ as the center, while still being able to share the truths of God," Garrison said. "Speech has helped develop my ability to not only interact with views I do not initially agree with but more importantly appreciate and love the people behind the views."