Senior director enjoys Being Earnest
Published by Concordia University, Nebraska 9 years ago on Tue, Mar 27, 2012 2:31 PM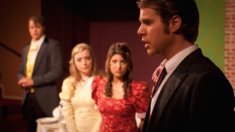 Nick Lee focuses on his performance as John Worthing in "The Importance of Being Earnest."
The theatre department at Concordia staged the comedy The Importance of Being Earnest: A Trivial Comedy for Serious People March 30- April 1 in the Seward Civic Center auditorium.
Written by Oscar Wilde in 1894, Earnest is known for its light-hearted plot and ability to entertain audiences. Senior Bryce Tellmann, director of the show, says the play still relates to society today, even though it was written more than a century ago. "The fact that we can still find it so delightful and hilarious…suggests that maybe time doesn't make us that different after all."
Tellmann was excited to work with the actors and stage crew on the production. "I've participated in a great number of productions at Concordia, but I can honestly say that this is the finest, most hard-working cast I've ever had a chance to work with," he said.
In addition to the joyous aspects of staging the show, Tellmann says it did not come without challenges. "It can be a bit intimidating at times when they are all looking to me for a final decision. Being a 'good' director also requires me to push myself to be a bit 'hyper-critical' of the actors, even when they're doing an amazing job," he added.
Cast and crew:
Algernon Moncrieff: Collin Christiansen, Freshman, Palmer, Alaska
John Worthing: Nicholas Lee, Senior, Seward, Neb.
Gwendolen Fairfax: Alina Swoboda, Senior, Genoa, Neb.
Cecily Cardew: Michaela Gierke, Freshman, Billerica, Mass.
Lady Bracknell: Alyssa Lehenbauer, Freshman, Lake Ozark, Mo.
Miss Prism: Stephanie Rippstein, Sophomore, Seward, Neb.
Rev. Canon Chasuble: Cory Prelerson, Senior, Papillion, Neb.
Lane: Jacob Ignagni, Freshman, Fremont, Calif.
Merriman: Nathanael Prince, Freshman, Davenport, Neb.
Director: Bryce Tellmann, Senior, New Salem, N.D.
Stage Manager: Joshua Schultz, Senior, Mapleton, Minn.