Senior Austin Theriot awarded for music composition
Published by Concordia University, Nebraska 4 years ago on Fri, Nov 16, 2018 4:05 PM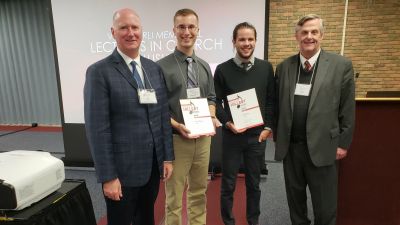 Concordia senior Austin Theriot (second from left) received the 2018 Richard Hillert Award in Student Composition, presented by The Center for Church Music.
Concordia senior Austin Theriot (Lake Charles, La.) recently received the 2018 Richard Hillert Award in Student Composition for his piece "Psalm 8."
"It's an honor to receive the Richard Hillert Award in Student Composition," Theriot said. "There are so many hours that go into writing a piece, from researching the text, composing the music, preparing the score, rehearsing, recording and finally performing it. It's rewarding when that time and energy is recognized."
The award is given every other year by the Center of Church Music at Concordia University Chicago. Nominations are open to any student at a Lutheran university or seminary in the United States. The piece can be in any genre and must be three-to-five minutes in length, suitable for a church service, Dr. Barry Bobb, director of the Center of Church Music, said.
Theriot's piece, written for soprano and alto voices with piano accompaniment, was well crafted and is easily usable at most congregations, Bobb said. Since it was a winning piece, "Psalm 8," will likely be performed next summer at the Association of Lutheran Church Musicians Conference in Portland, Oregon.
"It's a joy to know that because of this award, more people will have the opportunity to hear my music," Theriot said.
A panel of three judges, who are well-established composers and active church musicians, score the nominations during a double-blind process, Bobb said. Theriot tied with David Gilson, from Concordia University Chicago, for the highest scoring piece.
Theriot's award provides external validation of his strong creative work, David von Kampen, his music composition professor, said.
"Austin has written some really strong music during his time at Concordia," von Kampen said. "It's nice to see one of his pieces be recognized this way. Austin is a great young composer, probably the strongest one I've taught. He has an excellent grasp of various musical styles and he's really curious about how to command different types of sound."
"Psalm 8," holds a special place in Theriot's heart, he said, because of its contemplation on the majesty of God and the wonder of His creation.
"When we look at the countless stars and galaxies God created, we tend to ask 'What is man that you are mindful of him? And the son of man that you care for him?'" he said. "And yet, He does care for us. We find the answer especially in Jesus, who came to earth as a man, lowly and made himself 'a little lower than the heavenly beings.' To die for the forgiveness of our sins. This awe and wonder at God's creation and His love for us is what inspired me to write the piece."
Theriot is pursuing a B.A. in Music with emphasis in music theory and composition. His first exposure to composition came from attending a weekly music theory workshop during his freshman year of high school.
"Eventually, those workshops turned into weekly composition lessons for me and I started writing music for my friends to perform," he said.
Theriot said he gives thanks to God for the gift of music and those who make music happen every day, especially the Concordia professors.
"They are such a continual blessing to Concordia and the institutions that receive the students that they teach," Theriot said. "Dr. David von Kampen is my composition teacher and he has given me so much great feedback over the last three years."
He's also thankful for Dr. Jeffrey Blersch, who performed "Psalm 8," with Cantamus, the women's choir on campus, and helped Theriot record it with them.
"Without professors like them who go the extra mile to teach and help students accomplish their goals, I would have never received the Hillert award," Theriot said.
Theriot's music can be found on his website at AustinMTheriot.com/listen.