Seeing the Heart of Concordia's Most Faithful Supporters
Published by Concordia University, Nebraska 4 months ago on Tue, Feb 22, 2022 4:16 PM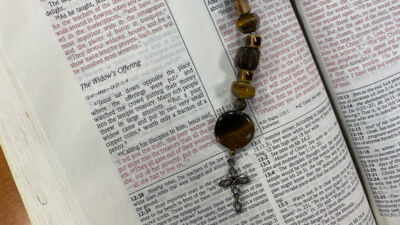 By Scott Seevers
Senior Director of Development and Engagement
She sees the familiar names on the envelopes, arriving regularly and frequently to Weller Hall on Concordia's campus, and she feels uplifted for a few moments.
Connie Ziegler, Gift and Data Integrity Specialist on Concordia's gift processing team, has the responsibility and joy of receiving and recording gifts to the University each day.
All gifts are received with gratitude, of course, but some stand out--not because of the amount received, but because of the frequency and consistency with which they arrive.
"I feel excited each time I see one of these envelopes because I love seeing how passionate these people are about Concordia's ministry," Ziegler shares. Even though many are decades removed from their own Concordia student experience, "they describe their time spent here with deep appreciation and remain committed to helping our current students share in that experience."
Some of Concordia's faithful supporters send a small gift every month and have been doing so for many years. "One gentleman still sends us $3 in cash, two or three times a month," recalls Ziegler. That gentleman is a devoted father whose two daughters once served as Lutheran school teachers. He simply wants to support Lutheran education.
Roger Goelz is another example of the Concordia faithful and their prevailing philanthropic spirit. At 73 years old, he has never seen Concordia's campus. Nevertheless, he has been mailing monthly gifts to the University for more than eight years. "My mother just came home from church one day and said I should start giving to Concordia, so I did," recalls Goelz. He supports a variety of LCMS ministries, even though some months he finds it a challenge to do so. "It's easier to think of yourself than others, but then you take a step back, think again, and remember what matters."
While most prefer sending gifts through the mail, a growing number of supporters choose to make use of credit cards or electronic fund transfers. Fitting a younger demographic, Sam CO'11 and Kirsten CO'12 Huebner of Parker, Colorado find themselves busy raising four children while running an expanding business. During this time of their lives, they find a monthly automated gift is the most pragmatic vehicle for their giving. The reason behind their gifts, however, is driven by respect for those serving in the church and a professor that had a lasting impact on them. The Huebners direct their recurring gift toward a church work scholarship endowment. The endowment is named for their former Concordia business professor, Dr. Andrew Langewisch. "We believe the long term success of Concordia depends, in part, on a growing and thriving church. In our admittedly biased opinion, Concordia Nebraska does as good a job as anyone in preparing church workers," says Sam. "We've witnessed God's work through church workers at local Lutheran schools, but it's a career path with a lot of obstacles. We hope our contributions help with just one of those many obstacles."
Dating back more than ten years, Gary Geiselman of Broken Bow, Nebraska has been sending monthly gifts, recently directing them to student academic scholarships. "Monthly just works for me—it's a habit now." As an LCMS member, keeping the cost of a Christian education within reach for students is a priority. "It helps give kids an option," he says. "That's our college. I want to support scholarships so the school can keep it affordable and attract students. It doesn't take much to make a difference."
During her years in the gift processing role, it has been a joy for Ziegler to open envelopes that occasionally contain not only a financial gift, but also a note of encouragement to students or a staff member at Concordia, accompanied by an uplifting Bible verse.
While those who support Concordia do so with a heart for different needs of the school, a consistent thread emerges: Gratitude is an important theme in each of their lives.
Says Goelz, "I've not missed many meals, and God has taken care of me all my life. I just want to give back, I guess."
"I'm just giving back from the blessings I've been given," explains Geiselman.
Dietrich Bonhoeffer once wrote, "In ordinary life, we hardly realize that we receive a great deal more than we give, and that it is only with gratitude that life becomes rich." Gratitude is abundant among Concordia's faithful supporters. Living in faith and destined for life eternal because of God's grace, each of them is a gracious, cherished gift to Concordia.