Rosa Gonzales Purihuaman '18 shares passion for Christ-centered education
Published by Logan Tuttle 4 months ago on Mon, May 17, 2021 11:14 AM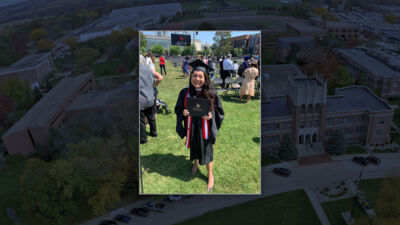 Rosa Gonzales Purihuaman '18 celebrates earning her master's degree from Biola University on May 7.
While Rosa Gonzales Purihuaman worked in the mission field through The Lutheran Church—Missouri Synod at home in Peru, she met missionary students from Concordia University, Nebraska, Chicago and Wisconsin.
She developed strong friendships through those experiences and knew that Concordia Nebraska was the best fit for her because she could live her passion for mission work and receive a Christian education. In 2018, she graduated after majoring in TESOL and minoring in Spanish and art.
"I had a wonderful experience at Concordia Nebraska," she says, "coming from Peru, there was an impact because [Seward] is a small town, yet people were very friendly and welcoming. The way professors care for the students was something that got my attention, and the Christian community environment encouraged growth in my faith."
After graduating from Concordia, Purihuaman began working at a nonprofit in Nebraska. Soon after, in 2019, she decided to go back to school to pursue a master's degree in intercultural studies with a concentration in community development at Biola University, a private Christian university in Southern California, so she could make an even larger impact.
"During my journey at Biola, many things I learned at Concordia were present there," she says. "Biola is a great university, but the graduate community was not well-developed. So, I took the Christian community spirit that Concordia placed on me during my undergraduate studies and began a community group for the graduate students in the intercultural studies program."
Through that experiences, Purihuaman found a position as a graduate coordinator for international students at Biola, where she served students from India, the Philippines, Korea, Thailand, Brazil, Nigeria, China, Taiwan, Republic of Congo, Papua New Guinea and Cameroon. In January 2021, she moved to Arizona to intern as an admissions counselor for Justice College, whose mission is to promote education to students who can't afford to attend college due to financial restrictions.
"As an advocate for education, it has been a blessing to be able to use the skills I learned from the admissions department at Concordia," Purihuaman says.
On May 7, Purihuaman graduated from Biola University with her master's degree and hopes to take a full-time position with Justice College. Throughout her journey, she still holds close the lessons she learned in Seward.
"I would like to say that at Concordia, I met amazing people who are still part of my life," she says. "The values and memories Concordia gave me are such a blessing to my life."