Rev. Sommerfeld shares Labor Day reflection
Published by Concordia University, Nebraska 1 year ago on Mon, Sep 6, 2021 8:23 AM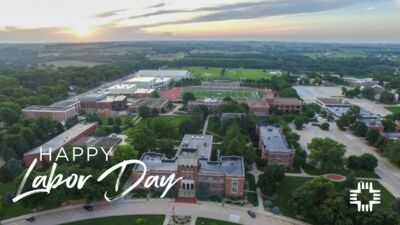 By Rev. Russ Sommerfeld
Assistant to the President for Church Engagement

In June of 1894, the year Concordia University, Nebraska was founded, U. S. President Grover Clever signed into law the first Monday of September as Labor Day. So, what's the purpose of this national holiday? For most Americans, Labor Day is a leisure day. It's a day for picnics, parties, camping, boating and spending time with friends and loved ones.
But leisure is not the intended labor of Labor Day. Each year the U.S. president issues a Labor Day proclamation. On Sept. 3, our president proclaimed, "I call upon all public officials and people of the United States to observe this day with appropriate programs, ceremonies and activities that honor the energy and innovation of working Americans."
The labor of Labor Day is to honor the various workers of America. We at Concordia take special interest in such labor on Labor Day. Our Christian understanding of vocation values every worker and their work as callings, yes, vocations from God. God values every worker and the work they do with excellence to honor him.
The 2021-2022 academic theme for Concordia is fitting for Labor Day. It honors the Body of Christ where each member is valuable for the whole body, even as every worker in our nation serves God by serving all.
With our theme as the body is one and has many members, all the members of the body, though many, are one in Christ (1 Cor, 12:12), our labor of Labor Day is to honor and thank all who are workers at Concordia and in the community. And we joyfully do this Labor Day labor to honor Jesus Christ who labored to redeem us!