Rev. Sommerfeld reflects on the 20th commemoration of 9/11
Published by Concordia University, Nebraska 11 months ago on Fri, Sep 10, 2021 9:27 AM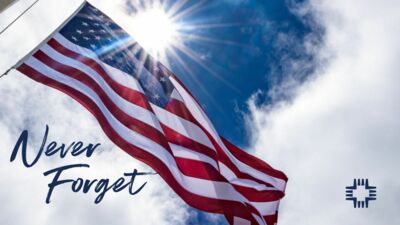 By Rev. Russ Sommerfeld
Assistant to the President for Church Engagement
On 9/11 of 2001, 2,977 people died in a vicious surprise attack on the United States. Among them were 343 firefighters, 23 police officers, 8 paramedics, 3 state court officers and 1 patrolman. When a response is no longer received from a firefighter or officer, the dispatcher announces the individual is "10-42". This means the tour of duty has ended. The radio crackles, 10-42 is announced, followed by the date.
The silence of 9/11 was deafening! After the explosions of planes deliberately flown into buildings, shrieks of the dying, blaring sirens and crashing structures, there was silence. Dispatchers called for firefighter after firefighter, officer after officer and only to receive silence. And in the days to come, the code 10-42 and the date 9/11 would be repeated over and over again. Hospitals received code 99 for an emergency of mass injuries. But silence fell upon the emergency rooms as they waited.
Amid the silence, Americans were stunned. How could this have happened? Who had done it? Would there be more? Life as we had known it was 10-42. And 9/11 would be repeated in silence year after year. Only the sound of a bell for each victim at the towers, the Pentagon and a field in Pennsylvania would be heard.
And here we are at year 20. It's time for silence again. What can be said? "Never forget!" Indeed, "Never forget!" What about code 10-41? Yes, the start of a new tour of duty. Amid the 586 B.C. war-conquered ruins of Jerusalem, Jeremiah lamented in its silence. And then by the inspiring Spirit of God he announced through his tears,
The steadfast love of the Lord never ceases;
his mercies never come to an end;
they are new every morning;
great is your faithfulness.
"The Lord is my portion," says my soul,
"therefore I will hope in him." Lamentations 3:23-24.
As we never forget the evil, the death and silence of 9/11, there is also confidence for a 10-41. Hope in Jesus Christ is real for a new tour of life won by His death when he was laid in the grave in silence. He is victorious over death! He lives and He always will! We can be 10-41 because of Him. "Alleluia, He is risen" pierces the silence. He can gather us around Himself to "Never forget" there is true hope in Him!