Rev. Scott Adle '00 serves church and community throughout pandemic crisis
Published by Concordia University, Nebraska 2 years ago on Mon, Jun 29, 2020 10:08 AM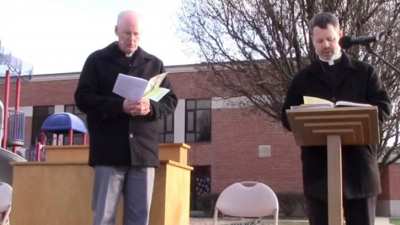 Rev. Scott Adle '00, right, reads scripture during a drive-in service at Good Shepherd Lutheran Church in Collinsville, Ill.
Rev. Scott Adle '00 serves as the associate pastor at Good Shepherd Lutheran Church in Collinsville, Illinois. After Concordia, Adle graduated from Concordia Theological Seminary in 2008 and his first call was to St. John's in Secor, Illinois, serving 2008-13. Adle has served Good Shepherd since 2013.
Carrie Kober, a Concordia regional ambassador, interviewed Adle about his experience at Concordia and how he is continuing to bring the Gospel to a hurting world.
Carrie Kober: What are some of the best things about your experience at Concordia?
Rev. Scott Adle: For me, Concordia was exactly as advertised: a college that had Christ and the Scriptures as the focal point, training men and women to live and work in the world from that center. The fact that the professors were Lutheran, and that a large chunk of the student body was too, made a huge impact on me. This doesn't mean it was sheltered or withdrawn from society, or that it was perfect, but it did show that me you could be both a faithful believer as well as an educated person living in the "real" world - something that most of the media even back then wasn't so sure of, and rarely portrayed accurately.
Kober: What were your thoughts and the thoughts of the church leadership as you learned that regular church services would not be able to happen?
Adle: Both the Senior Pastor, Michael Walther, and I saw this as a time when the church needed to keep speaking, keep drawing people together in worship. We wanted the church and community to know that we see church as an essential activity, and that when times are dangerous there should be more listening to God's word, and more prayer, not a retreat from it.
Kober: What were some of the possible solutions Good Shepherd came up with to deal with this crisis?
Adle: The various things we talked about, and have seen other churches do basically come down to a small list:
(a) Stop church altogether until experts deem it safe again.
(b) Stream or record services for people to watch online.
(c) Do multiple services with <10 people.
(d) Do a drive-in service where people stay in their cars and listen to the live service over their radio.
At our last church council meeting before the shutdown happened, as we were discussing possible ways forward, one of our members mentioned the drive-in service method he had heard about. At that point, we knew nothing about what it would take to broadcast a service over the airwaves, but we said we'd look into it. It turned out that it's not that complicated to do at a basic level. An FM transmitter for the power we needed could be gotten easily for less than $100 online. We ordered one that week and (thankfully) got it in time to do our first drive-in service the next weekend. Our weekend services typically had more than 200 cars between the three services. Good Friday's 5:15 a.m. service had more than 115 cars.
Kober: What all had to happen to make the Drive-in Services possible?
Adle: First, we needed a transmitter, which arrived just in time. Other than that, we had several members help out to make all of the rest possible. We had someone help us with a mixer and technical advice. Musicians and choir members played and recorded music to be used. We had elders and ushers help park people. Our DCE, Tom Westphal, constructed a base for a cross to be put up by the platform we conduct the service from, as well as made some boxes to collect offering as people were driving out. It really showed us that others saw this as something essential at this time too, and were willing to help make it possible.
Kober: What have been some of the joys that have happened throughout this time?
Adle: The greatest joy has been to simply be able do a worship service every week, especially since Holy Week fell right in the middle of all this. I think it's something that everyone (pastors included) probably took for granted even two months ago - that we would be able to attend church every week. As Christians down through the centuries have found out, for various reasons, that might not always be the case. To have that become the case here in such a short amount of time really startled me, and made me think again about why it is important, and what a gift of God it is to have this week in/week out. To be able to hear God's word, and to preach it through this time has been very gratifying.
Another joy is seeing the turnout. We really didn't know what to expect at first, but we were determined to go on, even if it was only six cars (or something like that). But there has been steady attendance, and from the notes and comments, the church members appreciate the fact that they are able to come to this kind of thing too. Others who can't come are watching online and are also thankful.
Kober: In what other ways has Good Shepherd been helping its people and the community?
Adle: We have a school here, so the faculty and staff have been working around the clock to make sure all the students continue with their studies - which include bible class and chapels. Half of our students are not members of the church, so they get to see that this stuff is important, even when the normal flow is disrupted.
We also have a food bank. The members responded rapidly to make sure it was completely stocked and ready if any community families need it. We have church members calling through our church directory, asking if any members need help, or if there is anything we can do.
Kober: What is your message to all of us as we face these times of uncertainty?
Adle: I guess the core message is the Gospel that the church proclaims in season and out of season - that Christ was crucified, died, and was buried. The third day He rose again from the dead. Nothing that has happened recently has changed this fact. He is a very present help in times of trouble; therefore, we will not fear though the earth gives way.
A lot can (and has) changed around us, but God's love for us in Christ has not. This is not a guarantee that our lives will be easy, or that we won't have hardships, but it is a guarantee that we are His, and He will never let us go.