Repurposed art installed at Concordia
Published by Concordia University, Nebraska 12 years ago on Fri, Aug 19, 2011 4:47 PM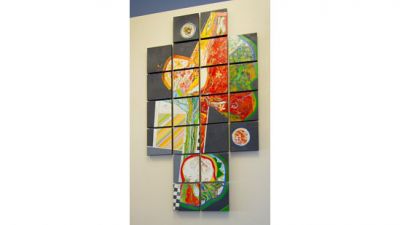 Regeneration by William Wolfram and James Bockelman is displayed in the Thom Education Leadership Center.
Students and visitors to the Thom Education and Leadership Center on Concordia's campus will be greeted by a newly installed mural on the main floor. The art work is the result of a creative collaboration by Professor Emeritus William Wolfram and Professor James Bockelman.
While the piece is new, it does have a former life. During the early 1970s, Wolfram created three paintings for the University Lutheran Chapel in Lincoln, Neb. The paintings showed the interrelationship between the natural world and the primary seasons of the church year. After forty years the mural was no longer needed by the chapel and was returned to Concordia's Department of Art. Wolfram and Bockelman explored ways to reuse the paintings. Ultimately, the panels were cut into smaller portions, the imagery was reconfigured, and the work was installed over the summer.
The title, Regeneration, refers to both the art work being recycled and the message of the piece. A fetus, streams of water, flowering plants and even a reference to the grave in the form of a skull from the original art work peek through layers of paint recently added. The final mural is in the shape of a cross.
"Regeneration celebrates the renewal of creation as a present sign of future hope," explained Bockelman. "Even as this world is our temporal home, stripes of color and fields of red and green remind us that heaven and earth is the site of God's glory and a gift to His people."