Radio plays provide unique experiences
Published by Concordia University, Nebraska 2 years ago on Fri, Oct 2, 2020 11:00 AM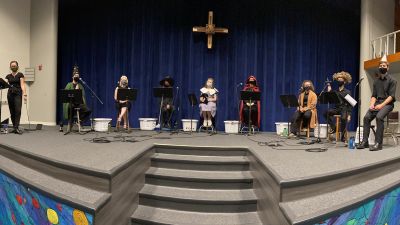 The cast of "Oz" records their radio performance that will be available for purchase Oct. 2-4.
The Concordia theatre department has been developing and performing radio plays as a way for actors and crew to continue honing their crafts despite being limited by public health safety measures.
The second of three performances, "Oz," is available for purchase Oct. 2-4 via Broadway on Demand for 72 hours, closing Sunday night (Oct. 4) at midnight CT. Written by Don Zolidis, and produced by special arrangement with Playscripts, Inc., this comedy/drama follows a grieving girl's journey through a world (and its characters) curiously resembling the film The Wizard of Oz, but with its own skewed story.
The performances have been created and produced by Concordia Theatre's Ghost Town Productions. Each stream of the show costs around $5 and viewers can purchase tickets early and watch the show later anytime during the weekend.
Hannah Watt, a senior theatre and communication arts major from Fairmont, Minnesota, developed Ghost Town Productions and is co-directing the three radio plays as her senior capstone project. Planning for her capstone started a couple of years back, Watt said, as a way to demonstrate how she would start her future theatre company. When COVID-19 hit, she had to make some large adjustments on the fly.
"Originally, I wanted to get three age groups together and have them experience theatre together," Watt said. "When COVID-19 struck, I decided that getting preschoolers and nursing home residents in the same room together was not the best idea."
On the road to a wedding this summer, Watt said she was brainstorming with her friend Rose Grothaus, who mentioned she always wanted to try podcasts. Naturally, the friends developed the idea of producing radio theatre, and have been co-directing the performances.
Radio theatre does present some unique challenges, Watt said—such as performing in front of an empty theatre, which inspired the Ghost Town Productions name.
"It is a whole new type of theatre for our department and we are all learning together," she said. "A big part of my project is making sure the costume and scene shops are involved. Since we are not making a large set this year or designing a new show, I wanted to still include the different aspects of theatre.
Directing my peers has been a dream! They all have been so willing to create with me, and I am just blown away. This wasn't just Rose and I directing, everyone had a say on how the show was going to go, and that is exactly what I wanted."
Watt knows she's asking a lot of her cast and crew, but the productions have been going smoothly because everyone is focused on collaborating.
"I am asking people to perform in an empty theatre and I am asking them to use their voices in a new way without having any experience myself," she said. "My casts made this easy, they just naturally understood what I was trying to say and have conveyed. I am forever grateful!"
Plans for the third show include a long-form improv show on Nov. 7 at 7 p.m. in Weller auditorium. Watt said she's hoping to have a small audience for that show, depending on the latest Directed Health Measures.
Cast and crew of the three productions include:
"39 Steps" by Joe Landry
Produced by special arrangement with Playscripts, Inc.
Drew Boggs, senior, Tilden, Neb., playing Hannay
Joshua Marlatt, senior, Mound, Minn., playing Professor Bartlett
Linnea Buchholz, senior, St. Paul, Minn., playing Pamela
Faith Jonas, sophomore, St. Louis, Mo., ensemble
Adam Prince, freshman, O'Fallon, Mo., ensemble
Josie O'Laughlin, junior, Winona, Minn., ensemble
Caleb Jalas, freshman, Deshler, Neb, ensemble
Emma Brand, senior, Springfield, Mo., ensemble
"Oz" by Don Zolidis
Produced by special arrangement with Playscripts, Inc.
Kadie Sheldon, junior, Lincoln, Neb.
Linnea Buchholz
Joshua Marlatt
Caleb Jalas
Drew Boggs
Adam Prince
Miriam Wolf, junior, St. Louis, Mo.
Jessica Landrey, freshman, Seward, Neb.
Faith Jonas
Improv show
Nathan Leonard, junior, Topeka, Kan.
Avery Kesar, senior, Omaha, Neb.
Drew Boggs
Matthew Murphy, senior, Seward, Neb.
Haleigh Fitzsimmons, junior, Lincoln, Neb.
Morgan Bowman, sophomore, South Sioux City, Neb.
Hannah Watt, senior, Fairmont, Minn.
Grace Babbitts, junior, Shohola, Pa.
Production crew
Directors & Managers
Rose Grothaus, junior, Lincoln, Neb., co-director/producer
Hannah Watt, co-director/producer
Chloe Brown, freshman, Concordia, Mo., stage manager

Costumes
Alexa Spale, staff, costume design and shop supervisor
Hannah Watt
Linnea Buchholz

Scenic
Robert Olson, staff, scene design supervisor
Logan Matters, senior, Overland Park, Kan.
Tiffany Hovendick, junior, Milford, Neb.
Eleanor Clausing, freshman, Washington, Mo.

Lighting
Faith Brown, sophomore, Concordia, Mo.

Sound and Art
Nathan Leonard
Nathan Pennington, sophomore, Carthage, Mo.
Emma Brand, cover art