"Pure Photography" focus of Marxhausen Gallery exhibit at Concordia
Published by Concordia University, Nebraska 9 years ago on Mon, Jan 20, 2014 10:09 AM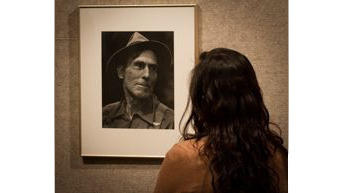 Concordia's "Pure Photography" exhibit included this untitled photograph from W. Eugene Smith, an American photographer who worked for Life Magazine, Newsweek and Magnum Photo Agency during his career.
The works of 20 acclaimed photographers made up the "Pure Photography: Pictorial and modern photographs" exhibit in the Marxhausen Gallery of Art at Concordia in February. A gallery reception featured an exhibit talk by Larry Gawel, photography instructor and program coordinator at Metropolitan Community College in Omaha, Neb.
"This is a superb show," Jim Bockelman, gallery curator and professor of art at Concordia, said. "I wanted to bring this exhibit to Concordia because I thought it complemented much of what our art history covers. But more importantly, I wanted to provide an opportunity for the campus and Seward community to see the early developments of modern image making."
Photographers in the show included Alfred Stieglitz, Paul Strand, Bernice Abbott, Edward Weston and Eugene Atget.
"When we unwrapped the Stieglitz, all of the students were amazed that his photograph of The Steerage was presented in our gallery. They had seen the work in Modern Art History just the semester before," Bockelman said.
"Pure Photography" featured images from the pictorial and modern photography eras. Gawel spoke about the techniques used by the artists.
The pictorial photographers used photographs as inspiration and then developed the images through various chemical processes to create rich tones, blurred edges and other effects. The trend then shifted to modern photography in which artists strived to capture a scene as realistically as possible. The special effects were no longer a part of the artwork.
The photographs, on loan from Syracuse University in New York, were influenced by the Czech, German, American, French, Mexican and Canadian backgrounds of the photographers. Depicted scenes in the photographs ranged from still-life fruit, buildings and landscapes to portraits and laborers.
The Marxhausen Gallery is the on-campus exhibition space for Concordia and hosts a variety of exhibitions each year. It is located in Jesse Hall and is open Monday – Friday from 11 a.m. to 4 p.m. and Saturday and Sunday from 1 to 4 p.m.