Prof. James Bockelman Reflects on Recent Exhibit
Published by Concordia University, Nebraska 4 years ago on Mon, Oct 22, 2018 11:12 AM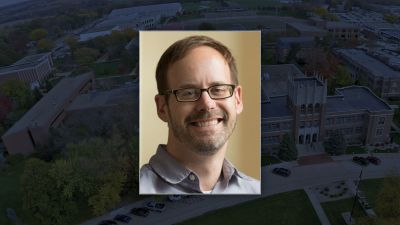 Jim Bockelman's joint art show, Cleft, was on display Sept. 14-Oct. 5 at the Project Project Gallery in Omaha.
Concordia University, Nebraska, art professor James Bockelman's joint exhibit, Cleft, was a reflection on the mundane, the ordinary and routine.
Cleft was on display at Project Project Gallery in Omaha Sept. 14 through Oct. 5. Bockelman created the installation with artist Michael Ian Larsen. The two expressed the idea of mirror and symmetry through a split reality piece about commercial restrooms.
"For me, it's a collective scrapbook of all the odd and terrible designs of restrooms I've seen," Bockelman said. "You know, where practicality and lack of money become more important than the aesthetics."
As the viewer entered the gallery, they heard what sounded like loud footsteps walking up and down a creaky, wooden staircase. As the viewer passed into the gallery proper, they were met by a video of the walking that was projected onto the ceiling. Walking deeper into the space, they saw the central installation, comprised of a six-by-six foot restroom, complete with two toilets resting within a few feet of one another.
The restroom had two open walls, which allowed the viewer to see everything – the toilets, tiled floor, a towel dispenser, outlet and even an air vent placed into the dropdown ceiling. As the viewer moved from the installation to the back of the gallery, they were confronted by a small video projection of an escalator and a ceramic sculpture of a goat hoof.
"The aesthetic for this restroom leans into a sort of mom and pop, do-it-yourself commercial construction found at rest stops and other locations where functionality need is met with a practical solution," Bockelman said. "This space within a space is not far removed from a representational painting or some kind of gritty realism. It also pays respect to the venerable history of artists employing bathrooms and bathroom fixtures as a way of confronting the hygienic purity of art making and exhibiting."
The goat hoof sculpture was created by Larsen, while the two video projects, titled "Escalate" and "Rising and Falling" were created by Bockelman. The goat was included in the piece because of its many associations, one of which being uncleanliness, Bockelman said.
"Everything in the show dealt with a duality or mirroring – a kind of split reality," Bockelman said. "Whether it was the goat hoof that Michael created or the slow motion video of an escalator with one side going up and one side going down in a monotonous manner.
We wanted to create a multi-sensory space in which the videos, goat hoof and restroom interacted with each other, as well as the viewer. We hoped that these jarring contrasts might encourage people to re-consider how some of our most familiar surroundings and intimate activities are meaningful, full of associations."
When asked if he thought the show was a success, Bockelman stated, "Yes. First, it was formally engaging. There were only four pieces to consider, so in this way it was minimal, but also rich for the senses. The other thing that it gave me personally was the opportunity to work out of my comfort zone. It forced me to think and respond in a direction I don't usually take."
There were others who didn't completely grasp the concept, and that's OK, Bockelman said.
"I understand that," he said. "I definitely realize that an exhibition such as this is not for all people. But, it was never intended for everyone to like it. It was something Michael and I needed to do, something we wanted to explore together."
Up next for Bockelman is a show at the LUX Center for the Arts in Lincoln that will start in January.
James Bockelman is a professor of art at Concordia and the Director of the Marxhausen Gallery of Art. He received his Bachelor's degree from Concordia and went on to earn his Master's in Fine Arts at the University of Nebraska-Lincoln. Since then, he has taught at the university level for 25 years and has had numerous solo exhibitions throughout Nebraska, including the Sheldon Museum of Art in Lincoln, the Museum of Nebraska Art in Kearney and Peru State College. Bockelman also had a solo exhibition at Kunstoffice in Berlin, Germany.