A Prayer for Uvalde by Rev. Russ Sommerfeld
Published by Danielle Luebbe 4 months ago on Wed, May 25, 2022 3:48 PM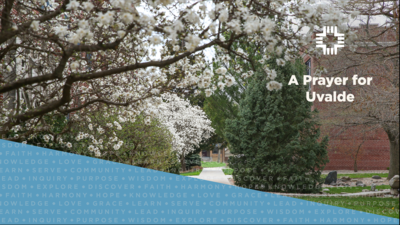 "At a loss for words." What can be said? Nineteen small children and two teachers murdered in a classroom! Others wounded. We are weeping! Sobbing! Wailing!
"A voice is heard in Ramah,
lamentation and bitter weeping.
Rachel is weeping for her children;
she refuses to be comforted for her children,
because they are no more" Jeremiah 31:15.
What can we say? We can pray!
God our Father, your once perfect world is infected with evil.
It is stained with hurt and hate.
Anger becomes rage.
Ire is inflicted on the innocent.
Senseless murder is loosed in but moments.
The wounded fall, sudden death consumes them.
And they are no more!
Dear Father; mothers and fathers cannot be comforted.
Their precious children have been ripped from them.
Lives are torn asunder.
We know not what to say. So, we pray.
Father, have mercy! O dear Father, have mercy!
You have seen your own Son Jesus brutally put to death.
You know the heartbreak of silence amid emptiness.
You watched his limp body laid in the tomb.
You heard the railing and the wailing.
Your heart was pierced by the evil infection come into your once perfect world.
Where, oh, where is our hope? Is there any consolation?
What to say? We are at a loss for words?
So, we listen in silent prayer. Speak to us, Jesus.
Jesus declares, "I am the resurrection and the life…"
He promises "The one who believes in me will live, even though they die" John 11:25.
And, weeping at a graveside, Jesus beckons the dead to come forth.
Even as he, himself has emerged from death's prison,
He assures us, "Fear not, I am the first and the last, and the living one. I died, and behold I am alive forevermore" Revelation 1:17-18.

Thank you, O Lord Jesus, for your Word amid our tears. Amen.