One act plays take stage at Concordia
Published by Concordia University, Nebraska 9 years ago on Fri, Mar 23, 2012 2:41 PM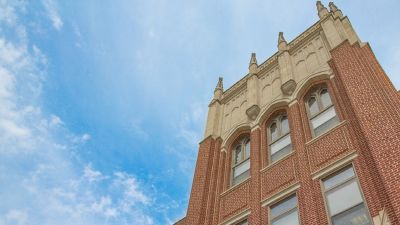 The theatre department at Concordia hosted its annual one act play festival consisting of four individual one acts April 13-15 in the Music Center's studio theatre.
The plays were directed by students in Play Production, a course taught by Bryan Moore, Concordia's assistant professor of communication and theatre. The class is meant to give students behind-the-scenes experience, since many in the class have participated as actors in Concordia's theatre program, but not in the role of director. The one acts also gave students another opportunity to participate in theatre but in a less demanding production compared to main stage plays.
Plays included:
A Curtain Call to Arms or The Final Bow by Matt Casarino, directed by Heidi Niedfeldt, Senior, Stella, Neb.
A cast gets ready to take its final bows at the end of a play, but a crazy chorus member with a gun takes over the stage. The actors realize the show isn't over until they are able to take their curtain call, and they must find a way to stop the chorus member.
Cast:
Kirsten Awe, Sophomore, Tilden, Neb.
Brittany Becker, Junior, St. Peters, Mo.
Byron Dow, Senior, Arlington, Texas
Brandy Frey, Senior, Milford, Neb.
Ethan Hutton, Junior, Muskegon, Mich.
Julie Marquardt, Sophomore, Janesville, Minn.
LeAnn Miller, Junior, Battle Creek, Neb.
Tory Petz, Senior, Beemer, Neb.
Cayde Sprecker, Junior, Woodbine, Iowa
Patrick Tyrance III, Senior, Lincoln, Neb.
Joseph Weilnau, Senior, Monroe, Mich.
Rory Wendelin, Senior, Oberlin, Kan.
Assistant director: Anna Schuett, Senior, Grand Island, Neb.
Bang Bang, You're Dead by William Mastrosimone, directed by Heather Niedfeldt, Senior, Stella, Neb.
Josh, a high school student, finds himself in jail after shooting his parents and five students. The ghosts of the students visit Josh in his jail cell, demanding a reason why, which leads them through the circumstances that caused Josh to choose the path he took.
Cast:
Steven Whitney, Senior, Kenyon, Minn.
Beth Bargar, Senior, Fairbury, Neb.
Sarah Dinger, Senior, Pocatello, Idaho
Martin Kois, Senior, Omaha, Neb.
Conner Lloyd, Freshman, Parker, Colo.
Elizabeth Wittig, Junior, Saginaw, Mich.
Daniel Miller, Junior, West Point, Neb.
Lucas Schmidt, Freshman, David City, Neb.
Bethany Osberg, Junior, Norfolk, Neb.
Mallory Hicks, Senior, Aurora, Colo.
Kristin Easler, Senior, Fredericksburg, Va.
Assistant Director: Taylor Baumeister, Sophomore, Ironwood, Mich.
I Don't Mind that You're Ugly by Bobby Keniston, co-directed by Heather Niedfeldt and Heidi Niedfeldt, Seniors, Stella, Neb.
Clyde is waiting at "The Only Fancy Restaurant in Town," anxious to propose to his beautiful girlfriend, Kira. There's only one problem: Clyde is a very average-looking guy. When Kira arrives, Clyde's night is thrown into chaos when everyone in the restaurant wants to gawk at his bride-to-be. When Kira accidentally makes the comment, "I don't mind that you're ugly" to Clyde, the night takes an unexpected turn.
Cast: Austin Albers, Junior, Sioux Falls, S.D.
Caitlynn Schwehn, Junior, Grand Island, Neb.
Naomi Kuddes, Freshman, Austin, Minn.
Andrew Magnus, Freshman, Springfield, Mo.
Stephanie Schroeder, Freshman, Deshler, Neb.
John Koopman, Senior, Milbank, S.D.
Catlyn Rohrig, Freshman, Friend, Neb.
Kelly Thiessen, Senior, Columbus, Ind.
Nick Butcher, Sophomore, Saginaw, Mich.
Check Please by Jonathan Rand, directed by Cynthia Hauder, Senior, Milford, Neb.
A guy and girl each go on a series of bad blind dates that seem to get worse and worse—a mime, a gay actor, an 80-year-old woman and more! By an act of luck, the two run into each other and put an end to the bad dates.
Cast: Ryan Fiero, Senior, Austin, Texas
Lindsey Kellerman, Senior, Mountain Home, Idaho
Jenna Karlin, Sophomore, Lincoln, Neb.
Sarah Heins, Junior, Higginsville, Mo.
Allison Parkhurst, Freshman, Yorktown, Va.
Tyler Nicholas, Sophomore, Lincoln, Neb.
William Kois, Freshman, Omaha, Neb.
John Koopman, Senior, Milbank, S.D.