Nathan Bassett '93 named Nebraska history teacher of the year by Gilder Lehrman Institute
Published by Logan Tuttle 11 months ago on Thu, Aug 19, 2021 10:53 AM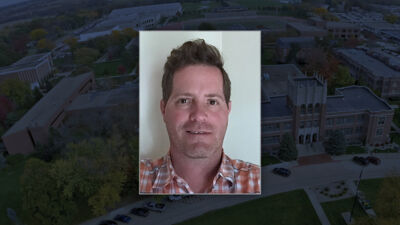 Nathan Bassett, a 1993 Concordia graduate, was recently named the 2021 History Teacher of the Year in the state of Nebraska by the Gilder Lehrman Institute of American History.
Nathan Bassett, a 1993 Concordia graduate, was recently named the 2021 History Teacher of the Year in the state of Nebraska by the Gilder Lehrman Institute of American History.
Bassett, who teaches social studies and theology at Lincoln Lutheran, was selected by the institution for his work ethic and desire to create a passion in his students for history.
"Being honored as the 2021 Nebraska History Teacher of the year comes as quite a surprise to me as I consider myself a simple history teacher with many years of experience in the classroom," Bassett says. "To receive this honor is humbling. I am not sure I am the greatest teacher with the greatest ideas, but part of my nomination was about my work ethic and tireless desire to make things better for the students, to try new things and to create a passion in my students for history. Sometimes I succeed at that and sometimes I don't, but it's always my desire to improve."
Bassett was nominated for the award by Katie Bockelman CO '93 GR '16, a fellow teacher at Lincoln Lutheran. State History Teachers of the Year receive a prize package including a certificate of recognition, a $1,000 award, a collection of classroom resources to be presented in their name to the school library and an invitation to participate in a Gilder Lehrman Teacher Seminar. Each winner's school will become a Gilder Lehrman Affiliate School.
Since 2004, the Gilder Lehrman Institute has presented awards to the best history teachers in the United States. Teachers are selected for the award based on their demonstrated commitment to teaching American history, evidence of creativity and imagination in the classroom and effective use of documents, artifacts, historic sites, oral histories and other primary sources to engage students with American history.
With a desire to continue improving, Bassett says he's made a commitment to continue learning. His daily routine includes some sort of history reading, and he does his best to stay informed of teaching best practices and then trying new lessons in the classroom. Some might laugh at the notion that he wants to learn more about history and the way it's taught because history doesn't change, he says, but the way that history is understood and used does change over time. For example, Bassett has started to teach his lessons thematically, instead of chronologically.
"When I began teaching history 26 years ago, primary sources were rarely used," Bassett says, "they might appear a few times in a textbook, but names, dates and textbook learning was generally how things were done. Current teaching methods have moved away from that model to the point that I no longer utilize a text and rely on primary sources and unique and varied secondary sources to walk my students through history."
Bassett's passion for history has been with him from as early as he can remember. Growing up, he was inspired by visits to places like Washington, D.C., Gettysburg National Military Park, Fort Robinson, Nebraska and the Golden Spike Monument in Utah. In these historical places, he felt strong connections to the human stories at each one.
"Names and dates were easy to remember and I read tons of books at my local library," he says. "My parents and grandparents even gave me books about history as Christmas and birthday presents. When we would go on vacation, my dad always had me read the map and provide directions, it was what I loved."
When Bassett made the decision to enroll at Concordia for his undergrad studies, becoming a teacher wasn't really on his radar, but he wanted to attend a small Christian college, where he could earn a degree before going to graduate school and spend more time in the history field. It was his father who suggested he take education classes. Both of Bassett's parents attended Concordia as second-career adult learners. He followed his father's advice and earned his teaching certificate since it didn't take any additional time.
"Being a teacher still wasn't really my goal at that point," Bassett says. "I did not get overly excited about teaching until I student taught. My Concordia professors provided excellent training in methods, I just didn't think I'd use them for my career. It just goes to show you that God has things figured out, even if a 22-year-old kid thinks he does."
Bassett says his three professors at Concordia—Dr. Pfabe, Dr. Grothaus and Dr. Fiala—challenged him to dive deeper and their classes had a certain level of rigor he wasn't used to.
"I had always had it easy in school until then," he says. "They were the ones who expected so much more of me and my classmates."
After graduating from Concordia in 1993, Bassett earned his master's degree from the University of Nebraska-Lincoln in 1995. That summer, he accepted a call to Lincoln Lutheran and has been there since.
"My passion for history has never waned," he says. "I work with great teachers; I have a supportive administration. The parents are encouraging and helpful and the students are amazing, they're hardworking, dedicated to their educations and a joy to work with."
Throughout his lessons, Bassett says he puts Christ first, and then history.
"I have been blessed by God in many ways and this award, while nice, does not change my passion for teaching the Gospel of Christ and a little bit of history too," he says. "That is what I really want my students to learn. And in a time of hyper politicization of nearly everything, I hope they can learn to think, reason, interpret and understand how we, as a nation, arrived at the place we are today."
Bassett says he couldn't be where he is today without his strong support system.
"I just want the spotlight to be on Christ, my wife and three daughters, my colleagues who help me be a better teacher, and my students," he says. "Without these people, I'd be nothing special."