Music Students Perform Spring 2022 Honor Recital
Published by Brooke Lange 11 months ago on Fri, Apr 22, 2022 10:02 AM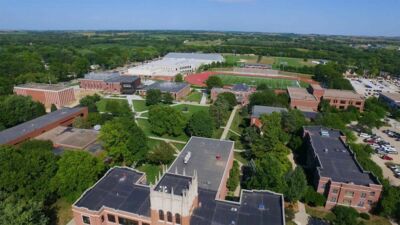 Concordia music students performed in the annual Spring Honor Recital on April 13.
The semiannual honor recital at Concordia showcases the vocal and instrumental talents of student musicians. Musicians are chosen to perform based on auditions judged by music department faculty members. The recital is held twice a year, once each semester.
"It's always a great experience for me and all of the music professors to see the product of our students' hard work," said Dr. Kurt von Kampen, music department chair. "To be sure, Concordia students are talented, but they also spend hours and hours working to prepare their pieces. And their private teachers are to be commended for their guidance of our students. It is a collaborative effort, but it takes a high level of dedication on the part of the student to rise to the level we see in the honor recital."
During the recital program, one student was inducted into the Iota Nu Chapter of Pi Kappa Lambda, the national honor society for higher education music students. Music faculty may induct up to 20% of the senior class each year to the honor society. Students who are inducted must demonstrate the highest standards in both academic scholarship and musicianship throughout their academic careers. This year's inductee was Nathan Johnson, a senior from Vicksburg, Michigan, who will earn a Bachelor of Music in Church Music.
Student musicians selected for the Spring 2021 Honor Recital in order of performance:
Renata Peperkorn, junior, Fort Wayne, Ind., playing "The Peace may be exchanged" and "The people respond – Amen!" by Dan Locklair on organ
Makenna Clovis, junior, Albuquerque, N.M., playing "Nocturne in E Flat Major, Op. 36, No. 4" by Gabriel Faune on organ
Jacee Pfeifer, senior, Holdredge, Neb., singing mezzo-soprano on "Serenade italienne" by Ernest Chausson
Rebekah Eatherton, junior, Sheboygan, Wis., playing, "Adiago" by Franz Josef Haydn on the flute
Kirsten Horne, freshman, Canton, Kan., singing soprano on, "Seele, deine Spezereien," from Easter Oratorio by Johann Sebastian Bach
Grace Miller, sophomore, Marysville, Kansas, playing "Menuet Gothique" from Suite Gothique, Op. 25, by Leon Boellman
Olivia Leising, junior, Arapahoe, Neb, singing soprano on "Quando men vo" from La Boheme by Giacomo Puccini
Bethany Zeckzer, senior, Grand Haven, Ind., singing mezzo-soprano on "Non-Piu Mesta" from La Boheme
Hannah Cmeyla, junior, Bay City, Mich., singing soprano on "Steal Me, Sweet Thief," from The Old Man and the Thief
Jenny Horne, junior, Canton, Kan., playing Impromptu Op. 90 by Franz Schubert on piano
Thomas Schulteis, sophomore, Parker, Col., playing Con moto maestoso, by Felix Mendelssohn on piano.