Music Students Perform Fall 2022 Chamber Recital
Published by Brooke Lange 1 year ago on Tue, Nov 1, 2022 3:10 PM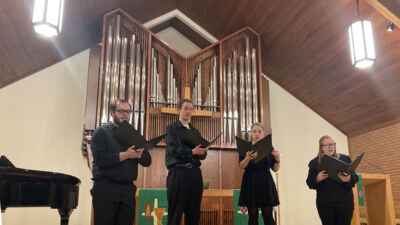 (From left to right): Cody Bender, Samuel Dunbar, Abby Nugent, and Kendra Johnson perform "Sing Gently" by Eric Whitacre
On Friday, October 21st, Concordia's music department hosted their fall chamber recital. There was a wide variety of acts hosted, boasting a range of genres of music.
Dr. Elizabeth Grimpo attributes the variety that the recital presents to the fact that it is up to the students to prepare. "Students choose, learn and rehearse the music by themselves," Grimpo says. "The faculty have very little involvement, and it has become one of the favorite recitals each semester."
Students who performed in the program were (listed in program order)
"Polka," from Hornsmoke by Peter Schickele
Hannah Eatherton, senior, Sheboygan, Wis., trumpet
Bekah Guilford, senior, Lincoln, Neb, trumpet
Alannah Stahl, junior, Saginaw, Mich., horn
Sarah Weber, senior, Manchester, Iowa, trombone
Jackson Munter, sophomore, Ithaca, Neb., trombone
Ben Toenjes, senior, Crown Point, Ind., tuba
"Violin Sonata No. 2 in A Major, BWV 1015," by Johann Sebastian Bach
IV. Presto (1685-1750)
Anna Royuk, junior, Seward, Neb. violin
Thomas Schulteis, junior, Parker, Colo., organ
"Do Not Be Afraid," by Philip Stopford
Kirsten Horne, sophomore, Canton, Kan., soprano
Hannah Cmeyla, senior, Bay City, Mich., soprano
Sadie Henson, sophomore, Herrin, Ill., alto
Abby Nugent, sophomore, Wake Forest, NC, alto
Timothy Mars, sophomore Kimball, Neb., tenor
Thomas Schulteis, tenor
Nathaniel Mueller, junior, Austin, Texas, bass
and Nathan Pennington, senior, Lincoln, Neb., bass
"Laudamus Te," by Antonio Vivaldi
Jessica Landrey, junior, Seward, Neb., soprano
Anna Royuk, soprano
Elizabeth Grimpo, piano
"Sing Gently," by Eric Whitacre
Kendra Johnson, senior, Council Bluffs, Iowa, soprano,
Abby Nugent, alto
Samuel Dunbar, sophomore, Lambertville, NJ, tenor
Cody Bender, senior, Utica, Neb., bass
Sadie Henson, piano
"Hello Mary Lou," by Gene Pitney
Caleb Zeckzer, junior, Grand Haven, Indiana, tenor
Jonathan Landrey, senior, Seward, Neb, lead
Isaac Weander, junior, Norfolk, Neb., baritone
Nathan Pennington, bass
"Devil's Waltz," by Steven Verhelst
Jackson Munter, trombone
and Andrew Schroeder, junior, Kendallville, Ind., trombone
"Ceciliada," by Marcin Warwruk
Kirsten Horne, soprano
Lydia Armbrecht, sophomore, Williamsburg, Iowa, soprano
Gabbi Krutsinger, junior, Imperial, Neb., alto
and Rachel Smith, junior, Earlham, Iowa, alto
Samuel Dunbar, tenor
and Logan Walgate, sophomore, Saint Charles, Mo., tenor
Jayson Klaumann, senior, Fairbury, Neb., bass
and Cory Ruybalid, junior, Grand Island, Neb., bass
Interested in music opportunities at Concordia? Learn more here.