Music department releases fall recital schedule
Published by Concordia University, Nebraska 2 years ago on Tue, Sep 29, 2020 4:38 PM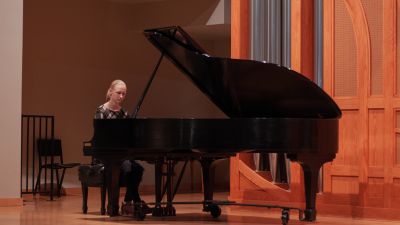 Each semester, Concordia's music department holds numerous concerts, recitals and musical events. These performances give students wonderful opportunities to share their gifts of music-making with friends, family and community members. This semester, with large-scale events such a challenge, Concordia's ensembles will be shifting gears, focusing primarily on recording pieces and sharing them online and through the various ensembles' Facebook pages and university social media.
Though they are not open to the general public, a few recitals are still on the music department's fall calendar. These are held in the Music Center Recital Hall for very limited (and socially distanced) audiences of students and their guests. Recitals are a critical part of each music major's education, providing not only the opportunity to perform, but also the chance to practice vital listening skills, and the department has been working hard to hold these performances in a way that is safe for performers and attendees.
Student Recitals are scheduled on Wednesday afternoons throughout the semester, and music majors are each assigned a recital in which they will perform on their principal (primary) instrument or voice. Upperclassmen fill the first several programs, and freshmen perform later in the semester, and each program features a range of performances on piano, organ voice and various instruments. The university's own Dr. Elizabeth Grimpo serves as the accompanist for these recitals.
Another critical piece of each music major's college experience is the Senior Recital, which students must prepare and perform before graduating. Four Concordia seniors will present Senior Recitals this semester on saxophone, piano and euphonium. These recitals are the culmination of students' training and experience, and while preparing for them is a demanding and sometimes nerve-wracking process, they are often exciting, "mountaintop moments" in a student's final year. Seniors may choose to livestream their recitals on their own social media pages or websites.
Also, in this year's fall lineup are two evening recitals: the Honor Recital and Student Composers Recital. To perform in the Honor Recital, students must first audition for the music faculty and be selected to perform in the recital program. The Student Composers Recital features original compositions, written and performed by Concordia music students. Livestream broadcasts of these two recitals are planned on the Music Department's Facebook page.

Fall semester recital schedule
Wed, Sept. 30, 3:40 p.m. - Student Recital, Recital Hall
Friday, Oct. 16, 7 p.m. - Sarah Benz Senior Recital [saxophone]
Wed, Oct. 21, 3:40 p.m. - Student Recital, Recital Hall
Friday, Oct. 23, 4 p.m. - Amy Guenther Senior Recital [piano]
Tues, Oct. 27, 7 p.m. - Honor Recital, Recital Hall
Wed, Oct. 28, 3:40 p.m. - Student Recital, Recital Hall
Friday, Oct. 30, 7 p.m. - Aaron Huesmann Senior Recital [euphonium]
Wed, Nov. 4, 3:40 p.m. - Student Recital, Recital Hall
Sun, Nov. 8, 3 p.m. - Charlotte Lines Senior Recital [piano], Recital Hall
Tues, Nov. 10, 7 p.m. - Student Composers Recital, Recital Hall