Meredith Wohlgemuth, '18 Accepted at Juilliard for Graduate Study
Published by Concordia University, Nebraska 5 years ago on Thu, Apr 19, 2018 11:42 AM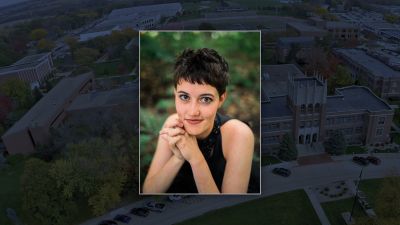 The news came in the form of an email, but after years of study, months of preparation and a long trip to New York City, Meredith Wohlgemuth received the news she was hoping for – she was accepted into The Juilliard School, Master of Music program.
Originally from a small town in central Florida called Winter Haven, Wohlgemuth grew up going to Lutheran schools and was encouraged by her family to attend one of the Concordia universities. "Many of my teachers were graduates of Concordia Nebraska, and they encouraged me to come here."
She began her education at Concordia as a music education major but along the way decided to change to an emphasis in performance. "I really want to perform long term and maybe work with young artist programs." She was able to do just that at the Harrower Summer Workshop Young Artist Program in Georgia, two years ago.
"I first met Meredith at Lutheran Summer Music when I was representing Concordia at the camp college fair," said Dr. Kurt von Kampen, chair of the music department and director of choral activities. "I really didn't know much about her singing ability but I was struck by her positive attitude, her spiritual focus, and her love of making music. I knew she would be a great fit at Concordia, and just hoped she could also sing. To my very pleasant surprise, when she tried out for A Cappella the first time, I knew she had the potential to be a very special singer. Some have said that Meredith has a "gift", and while I do believe that is true to some extent, she also has been a very hard worker and her success now and in the future will be due to the combination of her talent and her tenacity. Her work ethic has been infectious and her peer musicians have noticed that improvement is not mysterious."
In summer 2017, Meredith sang the role of second spirit in Mozart's "Die Zauberflöte" for the Berlin Opera Academy, a role she is reprising this summer for the southern Illinois music festival. Before Berlin, she participated in the Harrower Summer Opera program in Atlanta, Georgia, performing in "L'incoronazione di Poppea" by Monteverdi. "After my experience in Berlin, I'm open to traveling more in Europe and performing."
Wohlgemuth participated in the Metropolitan Opera National Council Auditions Upper Midwest Region and won the Encouragement Award. She finished 2nd place in classical and 3rd place in musical theater in Regional National Association of Teachers of Singing (NATS) in Greeley, Colorado. As a student at Concordia, she sings in University A Cappella and is student conductor. Additionally, she just completed her senior recital on Concordia's campus.
Knowing she wanted to continue her education following graduation, Wohlgemuth applied and auditioned at several other universities besides Juilliard. For Juilliard, she was required to submit pre-screened videos of 10 songs for the initial consideration. She was then invited to an in-person audition in February.
"It was the scariest audition of my life. They hear about 100 auditions for master's students and call back 10-20. I waited around to see if I received a call back and I did! During the callback, I sang three of the 10 songs I had prepared. They worked with me some on phrasing and it was over. I felt really good about my audition."
"Meredith approaches music with intelligence and artistic integrity," said Dr. Elizabeth Grimpo, associate professor of music. "Her performances radiate a sincerity and beauty that are truly inspiring."
"Dr. Grimpo accompanied me on all my audio and video auditions. I could never have done this without her help."
"Concordia gave me the foundation of music study. I'm indebted to Dr. Joe Herl, Dr. Elizabeth Grimpo, and Dr. Kurt von Kampen for their support and mentorship. My voice teacher, Dr. Talea Bloch, has been inspiring and encouraging and has given me so many opportunities. Concordia gave me the trust and faith to pursue my vocation."
"It is so clear to me why I came to Concordia and it's because of the sense of purpose that has been instilled in me here. I do everything for the glory of God, not myself. That's the difference and I wouldn't have gotten that anywhere else. "
Meredith's husband, Luke, '15, has been accepted into the School of Visual Arts in New York City. "It's like the Juilliard of illustration. I'm so proud of him! He has been very helpful to me by creating my website, helping with good quality videos and photos – everything, really. He made all this possible."
The couple plans to relocate to New York this summer.
"I could not have gotten to this point without the incredible support from my parents, they have believed in me every step of the way."
"What God gave Meredith is His gift to her: what she does with it, is her gift back to God," von Kampen said.