Marxhausen Gallery features Concordia student artwork
Published by Concordia University, Nebraska 7 years ago on Fri, Mar 27, 2015 10:08 AM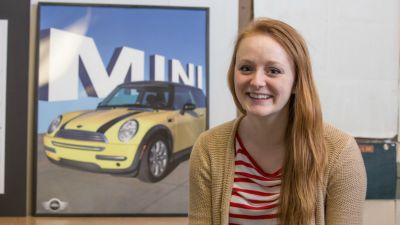 Concordia junior Sarah Bowe has seven pieces of art, including "Mini," in the Marxhausen Gallery's student art show on Concordia's campus. The exhibit is on display through April 17.
The best of Concordia University, Nebraska students' artwork, as judged by Concordia's full-time art faculty, is on display at Marxhausen Gallery from March 29 through April 17. The exhibit is free and open to the public.
"The student art show provides an opportunity for the community to see what its art students are doing in their coursework and personal studio practice," said Director of the Marxhausen Gallery Jim Bockelman. "This system of students submitting works to a jury of academic professionals is found in nearly every art school in the Western world today."
Art majors are required to enter their work to be judged. If accepted, their artwork will be displayed in the gallery and will be eligible for monetary awards. Endowed scholarships are among the awards.
The Annual Student Art Exhibition is a spring ritual for the university's art community. First- and second-year art majors must submit five works of any type of art. Third- and fourth-year students must enter seven pieces. If desired, students are able to sell their art during and after the exhibition.
The Marxhausen Gallery is located in Jesse Hall and is open Monday–Friday from 11 a.m. to 4 p.m. and Saturday and Sunday from 1 p.m. to 4 p.m.
Students with artwork selected for exhibition include (alphabetical by state, city, last name):
Carlos Acosta Davila, sophomore, Cali, Colo.
Allise Loomis, freshman, Centennial, Colo.
Hope Martin, freshman, Denver, Colo.
Jordyn Sturms, sophomore, Lone Tree, Colo.
Grace Hollenbeck, senior, Parker, Colo.
Brandon Ramos, senior, Wailukum, Hawaii
Hannah Miller, senior, Morton, Ill.
Grace Stange, sophomore, Lawrenceburg, Ind.
Chelsea Wohlgemuth, freshman, Alton, Iowa
Luke Wohlgemuth, senior, Alton, Iowa
Elizabeth Davidson, junior, Atlantic, Iowa
Emily Patton, sophomore, Hartley, Iowa
Caleb Pfeil, junior, Hiawatha, Iowa
Naomi Pfeil, senior, Hiawatha, Iowa
James Schwartz, senior, Iowa City, Iowa
Hannah Willison, junior, Manning, Iowa
Annie Friesen, freshman, Benton, Kan.
Brandon Hemmert, sophomore, Cimarron, Kan.
Bailey Baker, junior, Busan, Korea
Leah Eklof, senior, Cokato, Minn.
Alyssa Hanson, freshman, Faribault, Minn.
Micah Witt, junior, Faribault, Minn.
Kelly Snader, freshman, Higginsville, Mo.
Sylvia Braun, senior, Jefferson City, Mo.
Evan Rodriguez, sophomore, Princeton, N.J.
Emma Dannehl, freshman, Bertrand, Neb.
Amanda Newman, senior, Columbus, Neb.
Jade Rowe, freshman, Cozad, Neb.
Alison Schuerman, senior, Crete, Neb.
Alyssa McAfee, senior, Dannebrog, Neb.
Amber Deepe, senior, Deshler, Neb.
Amber Hopp, sophomore, Elkhorn, Neb.
Kristen Holder, senior, Fort Calhoun, Neb.
Randi Janzen, sophomore, Hampton, Neb.
Sierra Salazar, sophomore, Hastings, Neb.
Leah Guenther, freshman, Lincoln, Neb.
Eva Lube, junior, Lincoln, Neb.
Dane Stahr, senior, Lincoln, Neb.
Mitchell Volk, junior, Lincoln, Neb.
Taylor Workman, sophomore, Lincoln, Neb.
Luke Riley, senior, Lincoln, Neb.
Hannah Rose, sophomore, Louisville, Neb.
Danielle Harstad, junior, Norfolk, Neb.
Sarah Bowe, senior, Omaha, Neb.
Erika Ewing, junior, Omaha, Neb.
Jenelle Hallaert, senior, Omaha, Neb.
Clyde Ericson, sophomore, Osceola, Neb.
Aubri Bro, sophomore, Papillion, Neb.
Courtney Jurgens, sophomore, Pickrell, Neb.
Cole Berry, sophomore, Seward, Neb.
Sean Doran, junior, Seward, Neb.
Hayli Frosheiser, freshman, Seward, Neb.
Haley Harpham, senior, Seward, Neb.
Taylor Kumm, senior, Seward, Neb.
Emmiline Moll, sophomore, Seward, Neb.
Jessica Orwen, freshman, Seward, Neb.
Grace Woodburn, freshman, York, Neb.
Austin Romine, junior, Fort Worth, Texas
Taylor Rankel, freshman, Spring, Texas
Laura Sattler, junior, East Troy, Wis.