Marxhausen exhibit promotes discussion on motion
Published by Concordia University, Nebraska 1 year ago on Fri, Dec 6, 2019 11:32 AM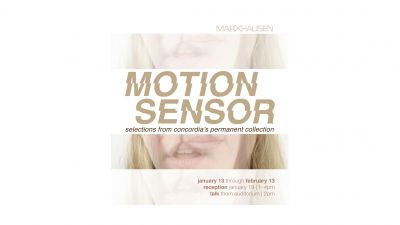 Concordia University, Nebraska's Marxhausen Gallery of Art will host the exhibit, "Motion Sensor: Selections from Concordia's Permanent Collection," Jan. 13 through Feb. 13.
An opening reception will be held Sunday, Jan. 19, from 1 to 4 p.m. in the Marxhausen Gallery, located in Concordia's Jesse Hall, with an artist talk in the Thom Leadership Education Center Auditorium at 2 p.m.
"Focusing on sight, sound and touch, the Marxhausen Gallery of Art is pleased to present a study in motion," said James Bockelman, Concordia professor of art and director of the Marxhausen Gallery. "Newton's First Law of Motion states that a body at rest will remain at rest unless an outside force acts upon it. This exhibit highlights the way in which the musical, visual and dramatic arts activate human responses."
The exhibit, featuring video, audio recordings and site-specific installations, provides experiences where movement is not just witnessed or seen, but physically felt when walking through the gallery.
"Sequence. Seriality. Repetition and Narrative — these are space and time–based patterns that provide rhythms of regularity or randomness, flowing or progression," said Bockelman. "Whether from the earliest developments of chronophotography to the Noise Chart for A Futurist's Orchestra or an Op Art silkscreen by Richard Anuszkiewicz, this exhibition creates a heightened opportunity to slow down and re–engage a world in flux."
The exhibit is open to the public and free of charge. The Marxhausen Gallery is located in Jesse Hall and is open 11 a.m. to 3:30 p.m., Monday-Friday; and 1 to 4 p.m., Saturday and Sunday while classes are in session. The gallery is closed Jan. 20 for Dr. Martin Luther King Day and Feb. 16 through 22 for installation.