Maj. Matt Christensen '03 shares chaplain experiences with students
Published by Logan Tuttle 4 years ago on Tue, Nov 26, 2019 11:25 AM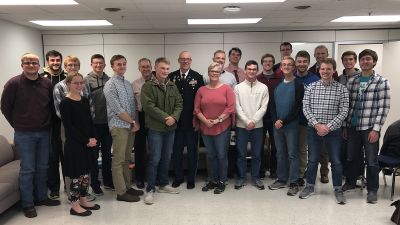 Maj. Matt Christensen (middle), his wife Jessica and son Caleb visited with pre-deaconess and pre-seminary students Nov. 13.
Maj. Matt Christensen, an Army chaplain, met with pre-deaconess and pre-seminary students Nov. 13 and shared his experiences from serving in the military, including deployments to Iraq and Afghanistan.
Christensen, a 2003 Concordia graduate and a 2007 graduate of Concordia Seminary in St. Louis, is one of nearly 200 chaplains endorsed by The Lutheran Church—Missouri Synod serving in the United States military. In the Army, Christensen said there are 24 active duty LCMS chaplains, out of about 1,500 chaplains serving all denominations.
As a chaplain, Christensen provides religious services for LCMS soldiers, in addition to conducting weddings, baptisms and helping to notify families of their loved ones who have died in combat. His No. 1 job, he said, is to ensure religious freedom for all soldiers.
"If I have a Muslim soldier and the unit tells him he can't celebrate Ramadan, they bring it to the chaplain and the chaplain is the one who says 'no, religious freedom says this solider can celebrate Ramadan, just like this other soldier can celebrate Easter and another can go to mass,'" Christensen said.
In addition to ensuring religious freedom, Christensen and chaplains assist their units by advising their commanders of internal religious issues and external religious issues.
"When I went to Iraq, the first Sunday we were there was Easter Sunday," he said. "We advised the commander that even though we're super busy, we need to take time to make sure our soldiers can go to Easter services. Because if they can go to those services, they'll be reminded of home, they're fed and they will function much better in the deployed environment.
"During a mission, we might have a big number of Muslim soldiers who are fasting during Ramadan, that can have a big impact if you're trying to do a strenuous mission so you can advise the commander on those types of situations."
On deployments, Christensen also advises commanders about external issues, including religious holidays that could affect missions or the safety of soldiers. In Iraq, he said, there were many local celebrations where residents shot their AK-47s into the air, making flying difficult.
"That's where chaplains can have an impact on the missions," he said, "because no one else is looking at the faith of the people in this specific area to know what they're doing and what makes them tick."
In Afghanistan, since he was stationed with an aviation unit, Christensen said most of his flying was done during the daytime, going from base to base. The type of unit dictates the type of work a chaplain is required to do, he said.
"If you're an infantry chaplain, they might have you go out on a mission outside of the protection of the base," he said.
The bases are built with concrete walls that look like an upside-down T with wire across the top. Inside a secure compound, Christensen said, you're walking through mazes because the enemy tries to launch rockets in as a way to disrupt military operations. During his first deployment to Iraq, Christensen said the enemy shot targets toward his base maybe five times throughout the year, but in Afghanistan, he said rockets were shot toward the base a couple times a day. Thankfully, he said, bases have a system that neutralizes rockets shot at the base.
"There was one day in Afghanistan where the system blew up the rocket right above me as I was going into the chapel," he said. "I hit the ground and it just rained metal."
Christensen first enlisted in the Army in 1993 and served seven years in active duty before he and his wife Jessica moved their three young children to Seward so he could attend Concordia. Christensen told the students the relationships that are built are extremely important when it comes to being a pastor and a chaplain.
"We have friends and people we can count on that we went to school with here and in St. Louis and those friendships and those bonds really can keep you going when things get tough," Christensen said. "I would say the relationships built here and at the seminary are more important than you realize."