Madison Pitsch '19 utilizes her talents to thrive in journalism
Published by Concordia University, Nebraska 4 years ago on Tue, May 28, 2019 11:44 AM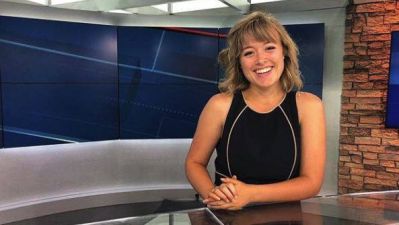 Madison Pitsch '19 has been a reporter for Channel 10/11 in Lincoln since January 2019.
Madison Pitsch may look familiar to those in the Seward and Lincoln areas, as she started as a reporter for Channel 10/11 NOW in January. Pitsch graduated in May with a bachelor's degree in journalism and public communications with minors in communications and intercultural studies.
The journalism field turned out to be the perfect career path for Pitsch, she said, because she always loved to tell stories and to learn. It was a fateful phone call with her dad, Monte, a 1994 graduate of Concordia, toward the end of her freshman year that helped guide her to pursue journalism—a vocation that would allow Pitsch, a Concordia, Missouri native—to maximize her God-given skills and passions. He suggested to Pitsch that she write for The Sower, Concordia's independent student newspaper.
"I said, 'Dad, that's a brilliant idea,'" Pitsch said. "I think within a few days I switched my major to journalism. I didn't realize how much of a fit that would be. I love telling stories and learning. I just didn't connect the dots. I needed that little push, I guess. Thank God for dads."
At The Sower, Pitsch got plenty of experience working in journalism, starting as a reporter, a columnist, helping with layout and then becoming print managing editor. Her classes in the journalism and public communications program at Concordia gave her opportunities to produce radio shows, news clips and write articles.
"Concordia's journalism program gave me a ton of freedom to find out what I liked," Pitsch said. "I never felt locked into anything. All of the professors I had, Tobin Beck, Dr. Pete Koprince and Dr. Erica Lamm really pushed me to find something that I could excel at and helped me hone the necessary skills like writing, communicating and producing news."
Journalism students at larger universities receive degrees in a specific media, such as TV, print or radio, Pitsch said. Since Concordia offers a broad approach to the field, she was able to get a journalism degree and then find out which specific media aligned best with her strengths.
"Concordia's program gave me all the tools I needed to go out into the world and tell its stories," Pitsch said. "There's a lot that you learn on the job, but Concordia gave me the foundation to tackle all these stories."
Her first internship started in the summer of 2017, as a reporter for the Times Record, a newspaper in Fort Smith, Arkansas. When her internship ended, Pitsch continued to freelance for the newspaper.
At one of the events she was covering in Arkansas — she saw a TV reporter toting around a tripod and camera— and Pitsch thought to herself she might like to do that, even though going into TV news wasn't one of her goals when she started pursuing journalism. She got the opportunity to try it out last summer when she interned for Channel 10/11 in Lincoln.
"I was right," she said. "I did like toting the tripod and the camera."
The 10/11 internship turned into a full-time position in January. Pitsch told the station's news director she wanted to work there and she'd be available. It wasn't long until they called her back and offered her the position.
"I'm blessed," Pitsch said. "I've stumbled into a lot of opportunities while being at Concordia, and getting hired and working before graduation has been one of the best opportunities to date. I had so much support from my Concordia people that I really felt like I could do anything with them behind me. One big thank you to my family, friends, professors, teammates and anyone who has said, 'Sure, you can do that. Why not try it?'"
Pitsch said she considers Nebraska her new home—she's excited and honored to tell Nebraska's stories.
"I really didn't think I would end up liking Nebraska so much," she said. "I love it here. It feels like home. I think a lot of that is the people—if you took Concordia's campus and put it anywhere, it would feel like home to me."