Landscape artwork from T.J. Koch to be displayed in Marxhausen Gallery
Published by Concordia University, Nebraska 7 years ago on Fri, Oct 31, 2014 10:44 AM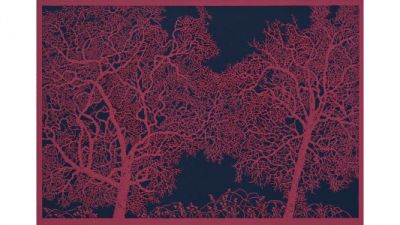 Adrienne Ginter's "Two Trees" will be on display at Concordia's Marxhausen Gallery of Art Nov. 9 to Dec. 17 in Seward. It was made in 2013 using hand-cut paper.
Landscape artwork, highlighting pieces from T. J. Koch, will be on display in Concordia's Marxhausen Gallery of Art from Nov. 9 to Dec. 17. An opening reception will be held on Nov. 9 from 1 to 4 p.m. with an artist talk at 2 p.m. in the Thom Leadership Education Center Auditorium.
"It is really a historic show and highlights the life of a man who devoted quite a bit of his time to painting," said Director of the Marxhausen Gallery of Art James Bockelman.
T.J. Koch was a composer of hymnody, a landscape artist and Lutheran classroom teacher. The exhibit is curated from the collections of the Gilbert and Marie (Koch) Blomenberg family. The exhibit highlights Koch's dedication to Lutheran education, as well as his oil paintings and chalk drawings, including landscape paintings of Bartholomew County, Indiana. Koch's work will be displayed in the north gallery.
The south gallery will feature a series of contemporary landscapes in an exhibit titled "Sprouting, Grouping, Attending, Discovering: An Exhibition of Landscapes by Adrienne Ginter, Heather Hanft, MaryEllen Hackett and Stan Obermueller." The artists in the exhibit use nature as their source of inspiration. Some of the artwork includes small organic vessels made from earthenware, paintings made from on-site watercolors and landscape portraits created in cut paper and ink.
Ginter is from Boston, Massachusetts. Hackett is a park ranger in Yosemite Glacier Park. Both Obermueller and Hanft are alumni of Concordia. Obermueller is a faculty emeritus of Concordia.
The exhibit is open to the public and free of charge. The Marxhausen Gallery is located in Jesse Hall and is open Monday–Friday from 11 a.m. to 4 p.m. and Saturday and Sunday from 1 p.m. to 4 p.m.