Kathleen Ohlman CO '85 GR '95 earns national music education honor
Published by Concordia University, Nebraska 2 years ago on Thu, Oct 29, 2020 4:22 PM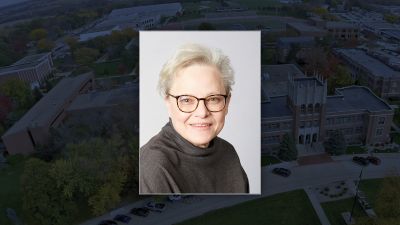 Photo courtesy Doane UniversityKathleen Ohlman CO '85 GR '95 was recently named a 2020 Lowell Mason Fellow by the National Association for Music Education.
Earlier this month, Kathleen "Kathy" Ohlman was named a 2020 Lowell Mason Fellow by the National Association for Music Education (NAfME). This distinction is one of music education's most important honors, designed to recognize the accomplishments of music educators, music education advocates, political leaders, industry professionals and others who have contributed to music education in their unique way.
"We are excited to honor Kathy for all of her accomplishments and leadership in music education," said Mackie V. Spradley, NAfME president and board chair, in the announcement news release. "Great leaders focus on what they can do for others, while helping them strive to reach their full potential to learn and contribute. Throughout her career, Kathy has given her personal best and refused to accept the status quo. Today, we celebrate her and the impact she has made in furtherance of the music education profession through her advocacy efforts as well as through the development of her students as both musicians and people."
Ohlman, who graduated from Concordia with her bachelor of science in education degree in 1985 and then a master of music in 1995, currently oversees the music education program at Doane University in Crete. She's also an advocate for music education on the state and national levels—serving as a public relations and advocacy board member to the Nebraska Music Education Association and she's the Nebraska representative to the National Association for Music Education's Advocacy Leadership Force. She is currently pursuing a Ph.D. in curriculum studies with an emphasis in music education from the University of Nebraska-Lincoln.
Through her advocacy work, Ohlman found her passion at the grassroots level, where she's able to help school districts advocate for arts education in their schools and also helping ensure teachers have the tools to be empowered to be arts advocates in Nebraska.
"I find the most fulfilling is the work in the state, working for teachers and students in the arts programs, music especially," she says. "At the state level, especially with my job as a music education professor at Doane, I can see the most tangible results of carrying on the teaching vocation through professional development and the teachers we graduate – helping them get the tools they need to help their programs and help them grow professionally. I think the most fulfilling part is the relationships I can establish at the state and local levels."
As the climate in music education continues to change, Ohlman says, it can be difficult for music teachers, especially in rural areas, to stay current on the latest music-specific research and best practices. Most professional development is presented at a broader level, and it's rare for music teachers to have specialized training available, she says. Much of Ohlman's work is focused on hosting free workshops for music teachers, where she can share the insight she gains on the national level and bring it to Nebraska classrooms.
"When Nebraska music teachers have an in-service, they can visit the Nebraska Music Education Association website and view one of the professional workshops and complete the worksheets that apply directly to them and their curriculum so they can continue to grow in music education," Ohlman says. "I feel that it's important to do service, not just talk about what needs to be done, but walk all the way through to the end and enact some of the things we know we can do in our profession."
The prestigious Lowell Mason Fellow award is named for educator, musician, and composer of more than 1,600 hymn tunes, Lowell Mason, who is considered to be the father of public school music education in the United States. He has been credited with introducing music instruction to American public schools in the 19th century, and with establishing teacher training in music education. In 2002, the importance of his contributions to music education inspired NAfME to create the Lowell Mason Fellows award.
"Receiving this award, for me, is more about the people who I get to associate with more than anything I've done," Ohlman says. "I've met some of the most tremendous people who are passionate about supporting the arts on many levels, and it's an honor to be their colleague."
Lowell Mason Fellow designations also provide an opportunity to support the efforts of NAfME through the donation made in the honoree's name. This donation goes to NAfME to support future generations of music educators through the organization's programs. Individuals or groups (corporations, universities, foundations, student organizations, etc.) may fund designations.
Ohlman has known since she was six years old that teaching would be her vocation because she always wanted to help other people learn.
"Education is power," she says. "It's the next step for everybody, it gives them the strength to do other things. Anytime we can impart knowledge, it helps communities, helps humanity and helps everything be better in the world."
Teaching, Ohlman says, is a profession that takes practice and is always evolving, so it's important to have access to the most recent information on best practices and research.
"It's an art," she says. "You can't learn to be a good teacher just by reading about it. It starts by reading and talking about it, but then the practice itself becomes fundamental to being an excellent teacher and doing the art of teaching."
Growing up a pastor's daughter, Ohlman attended St. Paul Lutheran High School in Concordia, Missouri, where she received an associate's degree, and the natural progression was to attend Concordia in Seward. As Ohlman reflects on her time at Concordia, she says she made some of her best memories on campus, while learning from the best music professors who were the kindest and nicest professors that students could have.
"I want to encourage everyone to be passionate about what you do and do it to your best ability that you've been given," she says. "If you do those two things, you have an honorable profession that brings honor to God, and that's something we learned at Concordia, that you are a service to others and you should strive to live your life to be of service to others and that you are most fulfilled when you are of service to others."