Jonathan McDaniel: Concordia helped me grow as an educated, Christian man
Published by Amy Crawford 3 months ago on Thu, Jun 8, 2023 10:30 AM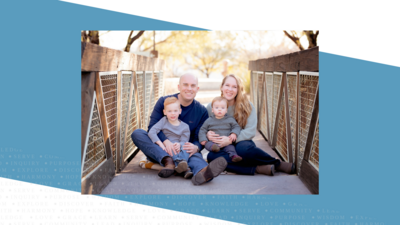 Jon McDaniel '10 his wife Elizabeth '12 and their two sons, Micah and Elijah
Jonathan McDaniel '10 always knew that he wanted to teach and coach following college. He transferred to Concordia University, Nebraska after spending two years at the United States Air Force Academy.
He received a bachelor of science in education, health and human performance and mathematics.
During his time at Concordia Nebraska he played football and was a member of the A Cappella Choir, both of which gave him the opportunity to form valuable life-long friendships.
"My Concordia experience impressed upon me the value of relationships and care for people," he said.
During his time in the classroom, he was challenged by demanding but caring educators.
"My professors challenged me and cared about me as a person. They wanted me to succeed," he said. "I'd never been challenged to read and digest scripture until I attended Concordia. Three professors I had really helped me grow as an educated, Christian man. Readings, class discussions, projects, etc. I really appreciated the challenge that Dr. Blanco, Dr. Reek and Dr. Moulds placed before me every day. They demanded much in the classroom, and I looked forward to it every day."
Following graduation, he took a call to Faith Lutheran Middle School and High School in Las Vegas, Nevada. There, he was a high school math teacher and football coach from 2010 to 2015. He and his wife Elizabeth '12 married in July 2015 and moved to Shanghai, China where they both taught at Concordia International School Shanghai from 2015 to 2019. In 2019, they accepted calls to return to Faith Lutheran in Las Vegas. He currently serves as the middle school dean of students, and Elizabeth serves as a counselor for seventh and eighth grade. She previously served the school as a science and health teacher. 
McDaniel said one of the toughest but most rewarding parts of his job is working with challenging students to turn their behavior around.
The McDaniels have two sons, Micah and Elijah. In addition to his daily responsibilities, he enjoys coaching high school football and playing golf.