Jenelle Hallaert '15 serves through art therapy in Washington, D.C.
Published by Concordia University, Nebraska 4 years ago on Wed, Jan 23, 2019 11:47 AM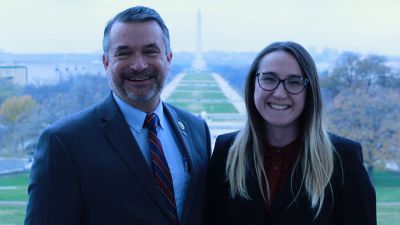 Jenelle Hallaert '15, right, served as an intern for U.S. Rep. Don Bacon during the 2018 fall semester in Washington, D.C.
Jenelle Hallaert had never heard of art therapy before visiting Concordia University, Nebraska in 2011. After hearing what the program involved, she was hooked.
"No other school had offered this idea to me and I was not going to miss digging into it," she said. "With a naturally curious and adventurous spirit, I jumped at the opportunity and I have been advocating for the field ever since."
Art therapy, Hallaert said, is the intersection between mental health counseling and art-making, two of her biggest interests.
"As art therapists, we implement specific and intentional techniques that involve art-making to invoke healing in clients, families, groups and communities," she said. "It is a familiar and versatile communication device that can be used to build trusting therapeutic relationships between therapists and clients, which is essential for healing."
The art therapy program at Concordia was established in 2011 to fill a need for this type of therapy across the country as it has been proven to be effective with all ages and specifically with people suffering from post-traumatic stress disorder, Alzheimer's and dementia. In the last eight years, Concordia's program has grown from two to 21 students, and currently has 12 majors in the program.
"We are currently the only college or university in Nebraska that offers a degree in art therapy," said Don Robson, Concordia art department chair. "We have established ourselves as the leader in this field of study."
While at Concordia, Hallaert developed both her theoretical knowledge of psychology and her studio art skills. Without the countless hours she spent studying for exams and making quality artwork, she said she would not have been able to accomplish all she has since graduating in 2015.
"My experiences taught me how to recognize my weaknesses, embrace the pain of transformation and turn them into strengths," she said. "To this day, I am not sure I have done anything as difficult as standing up in front of my peers and professors and endured serious constructive criticism of my personal artwork multiple times a week for four years."
Concordia is one of the few universities in the Midwest to offer an art therapy program, and it will take time for those services and education to be available, Hallaert said.
"Concordia has an excellent art therapy program, and combined with its Christian values, is a powerhouse that recruits exceptional faculty and students, creating much needed future art therapists," Hallaert said.
After graduating from Concordia, Hallaert attended graduate school at the University of Kansas, where she received a Master of Science in Counseling Psychology in May of 2018. Around that same time, she partnered with Nebraskans for the Arts, an Omaha-based non-profit, to create the Nebraska Art Therapy Licensure Coalition. The group is working to obtain a state-wide art therapy license. It's going to be an on-going process for the next couple years, Hallaert said, and Concordia has been a huge supporter of the mission.
In August, Hallaert moved to Washington, D.C. to pursue a Master of Arts in Art Therapy Practice from George Washington University (GWU). During her first semester, Hallaert interned with U.S. Rep. Don Bacon, who represents Nebraska's 2nd Congressional District, as a way to give back to her community and take what she had learned to advocate for art therapy.
"Interning with Congressman Bacon and his D.C. staff has helped me to understand the legislative process better, so I can effectively lobby for art therapy at both the state and federal levels," she said. "If art therapists want to help expand the legitimacy of our field, we need to know how to play the game and make a seat for ourselves at the table."
Now that her internship has concluded, Hallaert has landed a part-time job at the John F. Kennedy Center for the Performing Arts as a research assistant and data manager. She also works a few hours during the evening and weekend hours as a mental health counselor in Virginia for Safe Harbor Christian Counseling. In addition, she works clinical hours, as required by GWU, at The McClendon Center, a non-profit that provides services to people diagnosed with severe mental illness.
"The McClendon Center has been an excellent place to volunteer and grow my clinical art therapy skills," Hallaert said. "Because it provides me an opportunity to build meaningful relationships with the diverse Washington, D.C. population. It is not only a service I am providing to the community, the clients, the center and myself, but most importantly I am serving God through this practicum."
With all of her obligations and pursuits, between school, volunteering and clinical work, Hallaert uses prayer to help stay balanced.
"The abundant gifts that God has graced me with are truly incredible," she said. "I plan to use the responsibility He has given me in these endeavors to bring glory to His beautiful name. God has more power than I ever will to be able to help me manage these responsibilities, and I ask for His help in doing so every day.
"Without God's help, the stress would be too much to bare," she said. "He knows what I can handle, then He gives me more so He makes sure I am relying solely on Him. I don't know how but He gets me every time."
After graduating from GWU in 2020, Hallaert plans to move back to Nebraska and start the two-year process of becoming a registered art therapist. While in Nebraska, she hopes to teach undergraduate psychology and intro to art therapy courses part-time and work to create a curriculum for an art therapy graduate training program in Nebraska.