Jan Alexander '68 and Addy Fisher '18 Make a Connection
Published by Concordia University, Nebraska 3 years ago on Thu, Jun 21, 2018 12:00 PM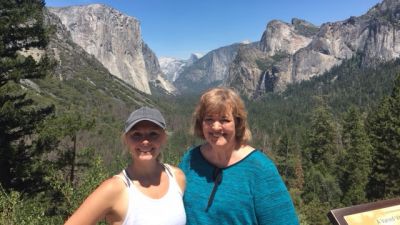 Addy Fisher and Jan Alexander
When Jan (Prante) Alexander returned to Concordia in the spring for the 1968 class reunion, she had no idea she would end up with a roommate.
Each member of the reunion class was asked to complete information for a memory book compiled and given to the reunion class. Jan lives in Lodi, California, located about 12 miles from Stockton and the University of the Pacific (UOP).
"I almost did not attend the reunion, but was prodded by a close friend," said Alexander. "I was blessed in many ways and enjoyed the spiritual connection, the fantastic music and worship, and renewed friendship with people I had not seen in fifty years. Jen Furr, director of alumni and university relations, did a phenomenal job in planning the reunion that made everything run smoothly."
Pete Kenow, an advancement officer at Concordia, approached Jan explaining that one of the new graduates needed housing near Stockton through the summer until she found roommates and a place to live close to the UOP campus. "This took me by surprise since my husband had been in nursing care due to many strokes and dementia, and I was alone in a four-bedroom house," said Jan. "My immediate response before even meeting her was that she could stay with me."
The new graduate was Addy Fisher '18 of Overton, Nebraska. An exercise science major, Addy was accepted into the fast track program with UOP to get her Doctorate in Physical Therapy.
Once the two met, they hit it off and continued to stay in touch until Addy made the trip to Lodi.
"I'm thrilled to be living with Jan. She has been so helpful helping me network, taking me to sites around the area and helping me navigate my way around Stockton where I'll be in the fall. I have the freedom to come and go as I please, to cook my own meals, and do my own laundry. I even have a friend from Concordia coming to visit – another graduate form 2018. It has been a true blessing for each of us and a reminder that God works through us when we are His servants and open ourselves to His blessings with praise and thanksgiving."
"This connection with Concordia, through the reunion and my friendship with Addy, has solidified my belief that Concordia is moving ahead in ministry and witness and mission work. I am proud to have been a graduate and able to be a part of Concordia's continuing efforts to praise God as it trains young people to be His servants in community and the world," Jan said.