Jake Woodward '21 helps coordinate flood rescue missions
Published by Concordia University, Nebraska 1 year ago on Fri, Mar 22, 2019 11:36 AM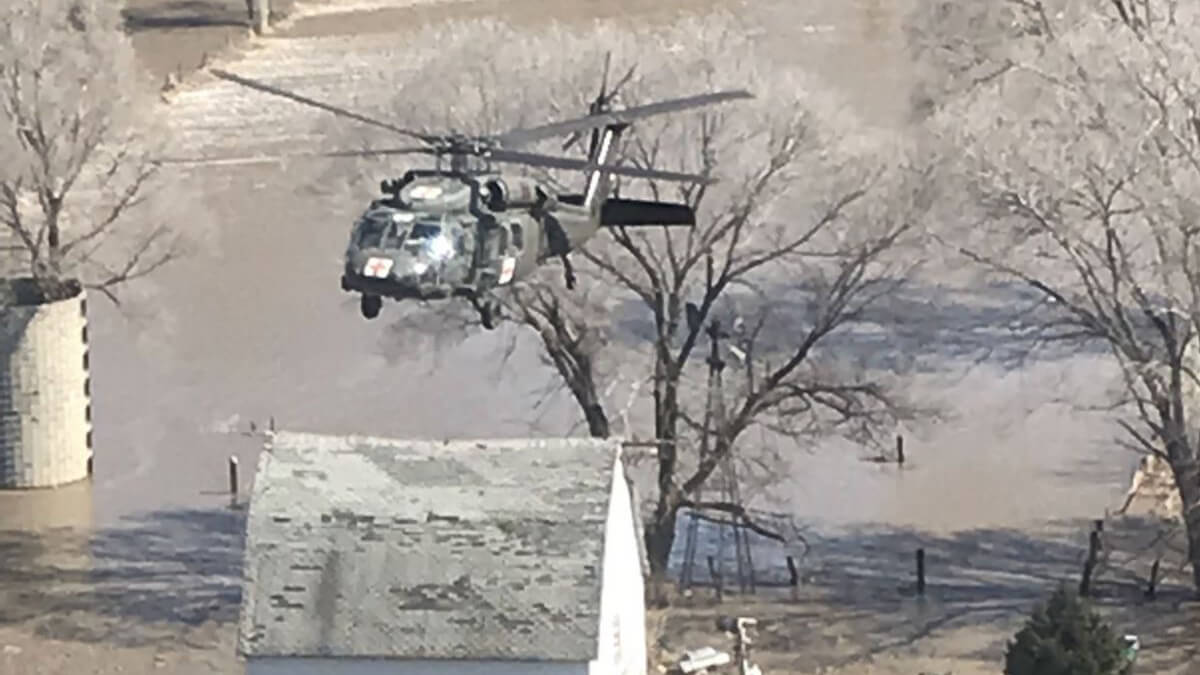 On Thursday, March 14, around 5 p.m., Concordia sophomore Jake Woodward and his Nebraska Army National Guard medevac unit were getting ready to call it a night. The decision was made to not make their routine night flights due to the 40 mph winds, with gusts in the 50s. Everyone was starting to pack up and head home.
At 5:30 p.m., Woodward got the call that his medevac crews were needed in Fremont and Columbus to help rescue residents affected by floodwaters. The first Blackhawk helicopter crew took off from the Lincoln Airport a little after 6 p.m., just under 40 minutes after receiving the call.
Woodward's role is aviation operations, essentially the quarterback of every mission, tasked with dispatching information to crews as quickly as possible. When the call comes in, as it did Thursday night, from the Joint Operations Center—a headquarters shared by the Air National Guard, Army National Guard and Nebraska State Patrol—that crews are needed, Woodward has to give crews just enough information to get them airborne. From there, he'll relay pertinent information to the crews via radio or text.
"It's pretty difficult to stay organized," Woodward said. "Not only are you getting these calls, but you have other pilots and crews trying to get information from you, so there's a million things going on at once."
After the first Blackhawk crew took off, another Blackhawk and then a Lakota helicopter were in the air by 7 p.m. The Blackhawk crews were tasked with the rescues, while the Lakota crews scouted the area with spotlights and night-vision goggles, mapping out where rescues were needed.
"That Thursday night when the crews went out, it was amazing they were able to do it," Woodward said. "It was a bad night, as windy as it was and they're flying at night, it was just impressive. You have those wind gusts up to 50 mph, the pilots are trying to keep the helicopters steady while the medics are riding a cable down from the helicopter onto the roof or the ground and they have to keep him from swinging when the wind is blowing and gusting that hard."
The first night was extremely hectic, Woodward said, he can't pinpoint exactly how many people were rescued Thursday, but his crews did pull a group of firefighters out of the water near Arlington after their boat capsized and took them to safety.
On Friday, Woodward said the crews sent to Fremont rescued nearly 40 people and a few dogs. Another crew rescued 30 people Friday as well. In total, the unit has five crews that have been working around the clock on rescue missions and more routine, scheduled missions, including flying Gov. Pete Ricketts to damaged areas.
"It's pretty cool to see how much work the rescue teams can actually do," Woodward said. "It's cool to be able to help coordinate it. Our crews didn't get enough credit for what they did over the last few days."
Balancing school and work hasn't been too difficult, Woodward said, because his classes are on Mondays, Wednesdays and Fridays, giving him flexibility to still be with his unit during the week.
"Usually I'm able to catch up on my school work on Tuesdays and Thursdays," Woodward said. "It's not bad, I just have to make time for it."
Woodward has served with the Army National Guard for nearly three years and with his current medevac unit for almost two. The Cortland native enrolled in a high school program allowing him to complete basic training the summer before his senior year. Once he graduated, he completed his job training. From a young age, Woodward admired his grandpa, who was drafted during the Korean War.
"I've always wanted to serve in the military," he said. "My mom was very big about me going to college, and this was a way to get my foot in the door and do both at the same time."
His ultimate goal is to become a helicopter pilot. But first, Woodward needs to continue his position in aviation operations, and then he hopes to be a crew chief.
"Being a pilot is an elite position," he said. "I used a flight simulator at Fort Riley in Kansas, and ever since then I've been on a big push. Helicopters can land anywhere and fly so close to the ground, they're amazing."
Woodward is a sophomore, but he's planning to graduate next year because he has volunteered to be deployed overseas. Each of those steps helps get him closer to completing the process of becoming a pilot. In order to be a pilot, one must first complete a Flight Packet, consisting of a laundry list of requirements, once they're done, the pilot prospect will be interviewed by a panel that will recommend whether the prospect should move forward.
"I'm working on my packet now," he said. "I took the flight aptitude test and did well, but it's a long process. I have to get letters of recommendation and take flight physicals."
After the craziness of last week, Woodward said his unit is putting together 24-hour operations in shifts.
"The first couple of days our crews were just going out and trying to rescue whoever they could," he said. "And now these scheduled missions, they're not as hectic and they shouldn't change as much on the fly. That will make it a lot easier."
Donation information
Donations to the Red Cross can be made here or call 1-800-733-2767. You can also text the word REDCROSS to 90999 to make a $10 donation.

Donations can also be made to the Salvation Army