Inauguration celebrates Dr. Bernard Bull, Concordia's 11th president
Published by Logan Tuttle 1 year ago on Fri, Oct 22, 2021 1:45 PM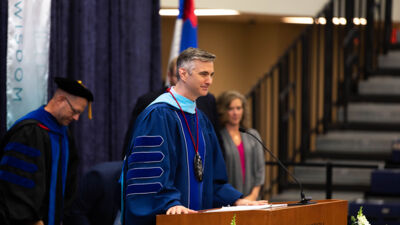 Dr. Bernard Bull, Concordia's 11th president, delivers his presidential address during an inauguration ceremony on Oct. 22.
Concordia University, Nebraska hosted an inauguration ceremony celebrating Dr. Bernard Bull, the university's 11th president, who began his tenure in August.
"It is an incredible honor to be serving the community at Concordia University, Nebraska," Bull said in his address.
In his address, Bull explained the important and distinct role Lutheran education has in today's society and how it is a direct reflection of Concordia's mission.
"Lutheran education, in its elementary, secondary, and higher education expressions, serves to equip people for faith and life in an ever-changing world," Bull said. "Yet, there is another important role. Lutheran education, when done well, is salt to the world around it, serving to preserve and flavor families and societies with that which is true, good, beautiful, sometimes even unifying."
As Bull continued, he asked the Concordia community for its partnership in keeping the university's four Promises of a Lutheran Education—community, inquiry, purpose and wisdom, as he described his vision for the university during his tenure. Bull said Concordia will seek and celebrate a strong and positive relationship with The Lutheran Church—Missouri Synod, the university's church body, seeing it as a strength and a blessing to Concordia and to society.
"We will embrace the intersection of faith and academic disciplines," he said, "seeing the tensions as opportunities to learn and ultimately serve our neighbors."
He also asked the Concordia community to hold him accountable for championing Christ-centered academic excellence and seeing the "Christ-centered" as an essential ingredient to what Concordia means by excellence.
"These are exciting times to be a Lutheran university," Bull said. "There will be troubles, uncertainties, and complexities to navigate. Yet, by the grace of God, we move forward with courage and conviction, knowing that we have a God who is with us, and who is capable of immeasurably more than we can imagine."
Inauguration of President Bull | October 22, 2021
We give thanks to God that Concordia University, Nebraska will continue to carry out our mission as a Christ-centered, Lutheran university that is, and equips students to be, salt and light to the world under the faithful leadership of Dr. Bernard Bull, the university's 11th president!

Rev. Dr. Leopoldo Sánchez, the Werner R.H. Krause and Elizabeth Ringger Krause Professor of Hispanic Ministries, professor of Systematic Theology and director of the Center for Hispanic Studies at Concordia Seminary, St. Louis, Missouri, delivered the inauguration address, where he reflected on his 30-year friendship with Bull and some of the lessons he's learned from him along the way. From their college days, Sánchez described Bull as someone who helped keep their friends on the straight and narrow.
"He was gentle, but also steady—fun to be around, but also a man of conviction," Sánchez said. "You got the sense that he was rooted in deeply held beliefs and values."
The qualities Sánchez described of Bull from their college days can still be seen today, he said.
"This gentle steadiness, this focus on leading from a place of conviction, is a quality that Dr. Bull embodies even today, and it comes through in his own philosophy of life and education," Sánchez said.
Sánchez went on to say that in Bull's own life and philosophy of education, he invites others to embrace mystery leading to humble inquiry, a direct reflection of one of Concordia's Promises of a Lutheran Education.
"His is a call that aligns very well with Concordia's promise to 'see the world and all that it contains' as 'a magnificent wonder…to immerse students in an environment of rich academic exploration and inquiry, where they deeply consider, debate and critically examine the world,'" Sánchez said. "This Concordia promise fits Dr. Bull like a glove. I predict his leadership among you will not only be gentle and steady, but daring and inspiring."