IMPROVables won't let audiences sit quietly
Published by Concordia University, Nebraska 10 years ago on Fri, Feb 18, 2011 5:27 PM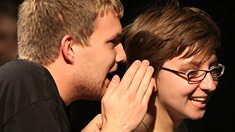 Tim Rehbein shares an on-stage secret with fellow IMPROVABLE performer Natalie Kesar.
You could be the star when Concordia's improvisational comedy troupe, the IMPROVables, welcomes audiences to its performances. The groups most recent shows took place on Friday, March 18 at 7:30 p.m. and 9 p.m. in the Studio Theatre in the Music Center.
Audience participation is imperative to the improv productions, whether that means shouting out ideas or getting up on stage.
"Audience members are usually a little hesitant to join the fray, but they love watching other audience members do it," explained Bryce Tellmann, one of the IMPROVables' leaders. "It also provides a new challenge for our performers. It's one thing to do a scene with someone you work with twice a week but entirely another to do a scene with someone you've maybe never met and who has little experience doing improv."
Not only is audience participation unique to improvisation, but the development of the story line is also. Although nearly every theatre production strives to make the audience feel as if it is watching the story take place for the first time, it is actually true with improv.
"That's what improv is," says Tellmann. "When you come to a show and watch a scene or a story being played on the stage, the characters within that story are making decisions in real time based on their relationships and circumstances, just like we would in our lives. It's remarkably inclusive."
Members of Concordia's IMPROVables:
Mary Aitken, Sophomore, Denver, Colo.
Brittany Becker, Sophomore, St. Peters, Mo.
Nathaniel Bellin, Senior, Racine, Wis.
Joe Beran, Sophomore, Lincoln, Neb.
Katie Bergt, Sophomore, Fairmont, Minn.
Kyla Clark, Junior, Columbus, Neb.
Josh Duncan, Junior, Hickman, Neb.
Kristin Easler, Junior, Fredericks, Va.
Heather Eden, Junior, Boise, Idaho
Ryan Fiero, Sophomore, Austin, Texas
Sarah Heins, Freshman, Higginsville, Mo.
Micah Hollenbech, Sophomore, Wheat Ridge, Colo.
Bryan Hulsey, Sophomore, St. Peters, Mo.
Ethan Hutton, Sophomore, Muskegon, Mich.
Natalie Kesar, Freshman, Omaha, Neb.
Phil Kober, Junior, Collinsville, Ill.
Mary Kois, Junior, Omaha, Neb.
Jon Laufer, Senior, Renault, Ill.
Henning Peterson IV, Junior, Parker, Colo.
Tim Rehbein, Sophomore, Omaha, Neb.
Andrew Rogers, Senior, Tacoma, Wash.
Paul Schmidt, Sophomore, Alta, Iowa
Amanda Schroeder, Sophomore, Stevens Point, Wis.
Jordan Schultz, Sophomore, Beemer, Neb.
Sara Schultz, Senior, Wamego, Kan.
Andrew Schwartz, Sophomore, Greeley, Colo.
Caitlynn Schwehn, Sophomore, Grand Island, Neb.
Cayde Sprecker, Sophomore, Woodbine, Iowa
Justin Tayon, Sophomore, Belleville, Ill.
Bryce Tellmann, Junior, New Salem, N.D.
Rory Wendelin, Junior, Oberlin, Kan.