Hospital artwork focuses on source of healing
Published by Concordia University, Nebraska 10 years ago on Thu, Apr 5, 2012 2:01 PM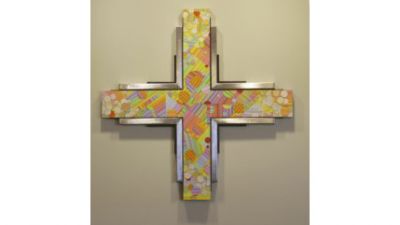 The cross designed by William Wolfram for the Children's Wing at Faith Regional Health Services features engaging abstract patterns and bright hues.
The Center for Liturgical Art at Concordia is known for creating beautiful stained glass and sanctuary furnishings for churches across America. But artists recently took on a different sort of project – making artwork for a hospital.
Rev. Ray Wilke, who is on the fine arts committee at Faith Regional Health Services in Norfolk, Neb., approached the CLA about commissioning several pieces of art for the new wing of the hospital. For the project, the CLA turned to Professor Emeritus William Wolfram, who is accustomed to making large wall crosses and mosaics. Wolfram meticulously cut and painted the pieces for three separate mosaics, including one for the reception area of the children's wing of the hospital. A fourth artistic contribution was a series of digital cross prints.
"The cross is the center of everything and spiritual healing is in the cross," Wolfram said when asked why he chose the cross theme. "[Rev.] Wilke wanted the Christian theme to shine since it's a Lutheran hospital. Having Christian art labels where the source of healing comes from."
When patients and families spend time in the hospital, Wolfram hopes they will know that they are ultimately healed by the power of God. The art drives home that point. "It's not necessarily just to decorate the hospital; it's to give the message that this hospital is Christ-centered."
In addition to Wolfram's mosaics, Amber Konz, a recent Concordia alumna, designed a set of banners to fly on the light poles in the hospital's parking lot. These outdoor banners feature the fruits of the Spirit: love, joy, peace, patience, kindness, goodness, faithfulness, gentleness and self-control. Each banner depicts a one of these fruits through a colorful, abstract design.