Harlie Himmelberg '20 pursues medicine as ministry
Published by Logan Tuttle 2 days ago on Mon, Feb 22, 2021 4:18 PM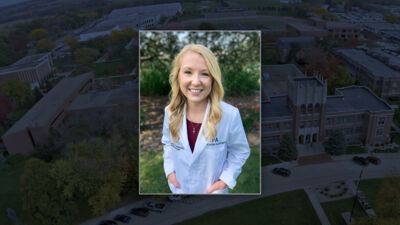 A mission trip to Guatemala changed Harlie Himmelberg's life.
When she arrived at Concordia in 2016, the Lawrence, Nebraska, native was determined to become a physical therapist—but after spending a week in Amatitlán, Guatemala on a Concordia-sponsored mission trip in the spring of her junior year—she realized she needed to become a physician assistant as a way to provide more service to others.
"I was incredibly fortunate to watch both Jill Beisel, PA-C and Dr. Sarah Matthias provide care for all who entered through the doors," Himmelberg recalls. "During this short time, my eyes were opened to the bridge that medicine creates between all individuals and the language of compassion it speaks. The impact that such seemingly simple visits had on these individuals and families was breathtaking, and I hope to make even a bit of difference like this one day."
In Guatemala, she saw the impact she could have working directly with individuals and families. Now, she says it's her goal to return to south central Nebraska to practice rural medicine and use what she's learned to give back to those who have done so much for her.
"While I had always been driven to become a healthcare provider, God placed in my life exactly what I needed to guide me through the journey," Himmelberg says. "Thank you to Dr. Jen Janousek, Jill and Sarah for such an amazing experience!"
After graduating from Concordia in May 2020, Himmelberg was selected to the University of Nebraska Medical Center Physician Assistant program, where she's completing her studies at the University of Nebraska-Kearney campus. She chose the UNMC program, she says, because of the focus on rural primary care, and that she could complete her studies close to home.
"UNMC encompasses everything that I am striving to become in a provider, by promoting rural medicine education, patient-centered care and international service," Himmelberg says.
The program's classroom portion runs until the fall, and then Himmelberg will begin her 15 months of clinical rotations in September until graduation in December of 2022.
As of now, Himmelberg hasn't selected a specialty, but she does know she wants to find a position where she can practice in both the operating room and in the clinic.
"I enjoy working with my hands and learning new procedures," she says, "but the relationships and the direct patient care are where I feel some of the greatest impacts can be made."
That one week in Guatemala still sits with Himmelberg, and is her inspiration for wanting to serve abroad again in the future.
"Time in Guatemala opened my eyes to the need for care around the world and I want nothing more than to do my part in that," she says. "Serving the underserved spans from my little hometown in Nebraska all around the globe, and I am so thankful to be a part of this ministry through medicine."
As she reflects on her time at Concordia, Himmelberg says the ability to double major in biology and exercise science gave her a strong foundation that she's building on through UNMC. In the exercise science program, she learned human movement, biomechanics, physiology and the application of developing exercise programs, which can be used in any health care career, she says. In the science department, Himmelberg says she learned how to push herself by being a lab assistant and gained a deeper passion for the human body.
"Outside of class, I was fortunate to play volleyball for three years, which rendered growth in team dynamics and helping me recognize my part in working toward a common goal and provided lessons and relationships that will last a lifetime," she says.
As she reflects on her experience at Concordia, Himmelberg says the university's greatest contribution is the heart and dedication of the professors, coaches and staff.
"I owe so much to all who I have come across for constantly pushing each of us towards our greatest potential and for always seeing the best in each of us," she says. "There is so much to be praised about the journey Concordia provided and the impact that it has had on so many individuals. The university fosters an environment for growth in faith, academics and service for every student, no matter the role.
"I am incredibly grateful to all that Concordia has provided for me as a student, player and growing servant of Christ!"