Hallick Lehmann '17 brings holistic view to patient care
Published by Logan Tuttle 3 months ago on Wed, Jun 9, 2021 8:09 AM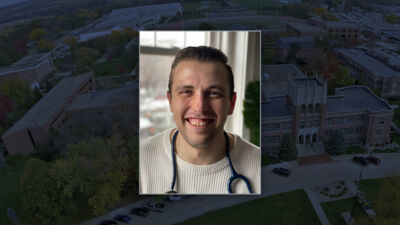 Since his junior year of high school, Hallick Lehmann has been fascinated by the science of the human mind.
When the Albion, Nebraska native decided to attend Concordia to play football, he was provided opportunities to immerse himself into the field of psychology—specifically in his abnormal psychology and adolescent psychology classes.
"These two classes really piqued my interest and my fascination developed into a passion," he says.
In his abnormal psychology class, Lehmann was assigned a case study where a theoretical patient was described and he had to use the DSM-V to diagnose them and develop a treatment plan.
"I loved this assignment," he says. "I loved looking at their symptoms and presentations and matching it up with a diagnosis. I was sold on doing this for a living and started looking into clinical psychology graduate programs to further my education and potentially work with patients."
After talking with Dr. Sara Brady about his passion for diagnosing patients, Lehmann learned he should pursue a career as a psychiatric-mental health nurse practitioner (PMHNP), where he would assess, diagnose and treat the mental health needs of patients. The psychology program helped Lehmann prepare for graduate school and also to become an empathetic nurse practitioner, he says.
"At Concordia, you can walk up and talk to anyone about almost anything, that really helped me have conversations with patients who come from different backgrounds from me," he says. "My coursework also helped prepare me by teaching me to have in-depth discussions about topics in psychology and to become a critical reader and listener. I think to be a good practitioner, you have to be able to critically look at everything in the picture to make an accurate assessment and diagnosis.
My time on the football team also helped me prepare for my master's program by staying strong through adversity and helped me succeed in the program."
Knowing the field he was now being called to, Lehmann scouted for graduate programs across the country, only finding a handful that fit his needs, and eventually applied to Boston College after graduating from Concordia in 2017.
While going from Albion to Seward for his undergraduate studies felt like a natural transition, moving to Boston from Seward was the polar opposite. In his first year in Boston, Lehmann's car was towed three times and he had to learn the bus and train routes while figuring out how to get to Boston College and the local hospitals.
"There were a lot of moving parts, but it helped me make friends fast," he says. "I relied, and still rely, on my friends for support. Instead of having a whole town, like Seward or Albion, supporting me, I developed a 'mini-family' of friends for support."
When he arrived in Boston, he had the opportunity to work part-time at a children's psychiatric hospital, where his experiences affirmed he was in the right place and going into the right field.
"I found joy in helping children when they were struggling mentally," he says. "It was amazing to see the progress they made from day one when they were aggressive, depressed or suicidal, to their discharge day where they were flourishing and shining."
As a PMHNP, Lehmann will provide psychotherapy and prescribe medications for patients who have mental health disorders or substance use problems. Additionally, he may also provide physical and psychosocial assessments and emergency psychiatric care and treatment.
"The way I like to describe it to my friends is that a PMHNP is similar to a psychiatrist, but looks at the patient from a more holistic lens, taking into account the patient's biology, psychology, environment and social life," Lehmann says.
After graduating from Boston College in May 2021, Lehmann's next step is to take the nurse practitioner boards before he begins his role at Lakes Region Mental Health Center in Laconia, New Hampshire as the head care provider for individuals with severe and persistent mental illness.
"In undergrad, I never really knew what I could do with my psychology degree," he says. "I was originally going to pursue a doctorate in clinical psychology, but luckily, I was introduced to psychiatric-mental nursing and haven't looked back since. This has been a much more fulfilling career choice for me personally."
Lehmann said if there are current Concordia students who are interested in pursuing the same route to contact Dr. Nancy Elwell, who will connect them with him.