Geidel and Anderson awarded High Impact grant to travel to Mill Neck School for the Deaf
Published by Concordia University, Nebraska 3 years ago on Thu, Nov 16, 2017 9:17 AM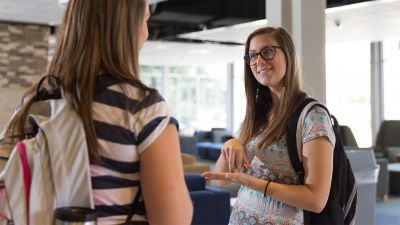 Concordia is partnering with Mill Neck Manor School for the Deaf in their ASL, ESL and special education programs.
Dr. Amanda Geidel and Dr. Vicki Anderson have been awarded a "High Impact" grant from Concordia in order to continue exploring partnership opportunities with Mill Neck Manor School for the Deaf.
The High Impact grant funds awarded to select faculty members are for use in the development of new educational experiences for their students. These experiences help students and faculty engage in learning that goes beyond the typical classroom, and are meaningful to student growth and development within their field of study.
In March 2018, Geidel, associate professor of education and director of special education, and Anderson, chair of international cultural studies and English as a Second Language (ESL), and program director for Teachers of English to Speakers of Other Languages (TESOL), will travel to Mill Neck Manor School for the Deaf to meet with administrators and teachers about future partnership opportunities.
Dr. Vicki Anderson traveled with three Concordia students to Mill Neck on Long Island, New York, this past May. While there, they were able to observe and assist in the teaching of children in the deaf community.
Toria Turner, a Concordia ASL student from New Palestine, Ind., helped teach an English class. Cadence Klemp, a senior in music therapy from Seward, was put into a music therapy class, where they focused on feeling rhythms. And Jessica Lewis, an early childhood education major from Salem, assisted in various pre-school and special needs classes.
"Many of the students at Mill Neck weren't diagnosed as deaf early, so they grew up with no language in a sense," Anderson said. "Not only are they being taught sign language, but they're also being taught English for the first time. It's like learning ESL while simultaneously learning your first language. It's a challenge, but one that we are honored to have the opportunity to help with."
Mill Neck Manor was originally home to a cosmetics millionaire in the 1940s until a group of pastors bought it and turned it into a boarding school for the deaf. Today, Lutheran Friends of the Deaf teach infant through high school students at Mill Neck throughout the year, including a six week summer program.
Turner plans to return to Mill Neck for her student teaching. She will be the first ASL and education student from Concordia to teach there. Anderson is also set to return with more students this next summer.
Concordia's ASL and ESL programs are also developing online courses for deaf-educators and partnering with researchers around the country to write and publish their data and find its implications.