Five Concordia students inducted into Pi Kappa Lambda's national honor society
Published by Concordia University, Nebraska 6 years ago on Wed, Apr 19, 2017 11:27 AM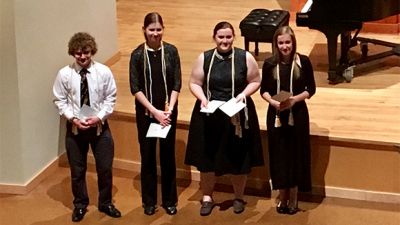 Pi Kappa Lambda Induction. Students pictured (l-r): Ryan Gross, Laura Hedstrom, Lauren Staehr and Grace Woelmer.
Five Concordia University, Nebraska, music students were inducted into Pi Kappa Lambda national honor society on April 4, 2017.
Pi Kappa Lambda, the national honor society for the study of music, was founded in 1916 at Northwestern University in order to recognize and encourage the highest level of both musical achievement and academic scholarship at the collegiate level.
Concordia became eligible to have a chapter of Pi Kappa Lambda when they were accredited by the National Association of Schools of Music in 2003. One year later, the chapter of Pi Kappa Lambda was chartered. Since that time, 38 Concordia University, Nebraska, students have been inducted into membership.
Any Pi Kappa Lambda chapter is able to induct up to 20 percent of its senior class of music majors each year. The music faculty nominates students from their senior class and students are chosen by election. The five students chosen this year were the most that Concordia's music department has ever inducted at one time.
This year's Pi Kappa Lambda induction class includes (alphabetical by state, city, last name):
Ryan Gross, senior, Seward, Neb.
Laura Hedstrom, senior, Lakefield, Minn.
Naomi Ristvedt, senior, Utica, Neb.
Lauren Staehr, senior, Grand Island, Neb.
Grace Woelmer, senior, Allen, Texas