Esports team embarks on inaugural season
Published by Logan Tuttle 1 year ago on Fri, Feb 12, 2021 9:35 AM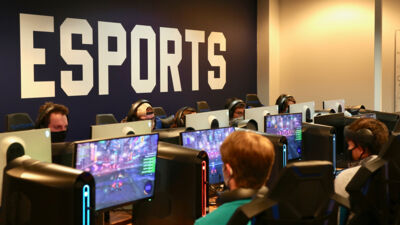 The Concordia esports team competed in its first regular season matches in Rocket League on Feb. 9, and Overwatch on Feb. 11.
Nearly a year after Concordia announced the addition of an esports program, the team competed in its first matches this week in Overwatch and Rocket League.
In the first two matches of regular season action, the Rocket League team fell to Carroll University 3-1 on Feb. 9, and the Overwatch team fell to Randolph-Macon College 3-0 on Feb. 11.
"Both matches were closer than the score indicates," Head Coach Ryan Hinds said. "In Rocket League, the last match went to overtime and almost went to a deciding fifth game, and in Overwatch, the last two rounds went down to the wire. Although we didn't come out with wins, I was impressed with how our teams competed in their first matches."
The Bulldogs are members of the New England Collegiate Conference (NECC), which includes more than 80 schools and 150 teams, allowing Concordia to compete against teams from across the country ranging from the National Association of Intercollegiate Athletics (NAIA) to NCAA Division I. Concordia's roster includes 15 players— eight who compete in Overwatch and four who compete in Rocket League, with the regular season spanning from Feb. 9 to April 7. An additional three members play League of Legends—two players shy of a full team—the League of Legends players meet regularly and continue practicing their strategy and teamwork.
"We are excited to bring esports to Concordia and provide our students another competitive program where they can hone their skills working as a team, learn how to build their personal brands and get experience working in other areas of esports such as streaming and commentating," Hinds said. "We have been practicing for a while now, and it's great to see our team start competing against other teams from across the country."
In Rocket League, the Bulldogs are members of the West Emergents division, where they'll compete on Tuesdays against teams from Central Methodist, Carroll University, Concordia University-Wisconsin, Fresno State, Kansas Wesleyan, Ottawa University, Upper Iowa University and the University of Southern Mississippi.
"Our students are very excited to have Concordia Wisconsin in our division," Hinds said. "Having a friendly rival in our division will give us some extra motivation throughout the season."
In Overwatch, the Bulldogs are members of the Navigators division, where each Wednesday, they'll face teams from Carroll University, Champlain College, Concordia University-Wisconsin, Greenville University, Hood College, Fresno State, Southern New Hampshire University and Upper Iowa University.
"Our teams are still getting a chance to learn how to work together, but with every scrimmage and preseason match, we are finding ourselves becoming a better, more organized team," Hinds said. "Our goals for the season are to have a winning record and continue improving each day as we work together to build this exciting program."
The team's schedules can be found at cune.edu/esports. All Bulldog matches will be livestreamed on its Twitch channel.