Endowments Honor Shared Experiences, Resource Concordia's Future
Published by Danielle Luebbe 3 months ago on Wed, Mar 23, 2022 4:28 PM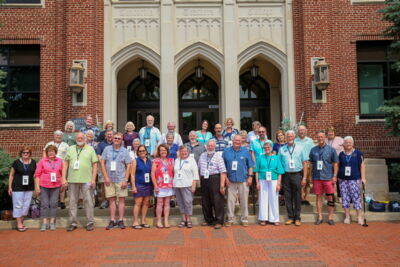 The Concordia University, Nebraska class of 1971 was the most recent to establish a class endowment at their Golden Reunion.
Larry Oetting fondly remembers his Concordia Class of 1962 Golden Reunion celebration in May 2012. Reconnecting and reminiscing with old friends about their shared Concordia experiences was a time to be cherished. "It was a great time to get together, and we were so happy to do that," he says. The classmates realized that even though their lives and their former campus had changed considerably over 50 years, the bond of their shared faith and experiences remained strong.
While catching up and recalling old stories filled much of their time, the classmates also conducted an important business meeting together. Following in the footsteps of previous classes, the 1962 Concordia grads voted to establish and fund a class endowment—one with a focus. "We wanted to do something for Concordia in general," Oetting recalls, "but there was very strong support for doing something specifically for church workers." In the 1960s, of course, nearly all Concordia students were preparing for vocations in the Lutheran Church-Missouri Synod, so the designation choice seemed appropriate. Oetting and his classmates recognized the ongoing urgency to support Lutheran Christian education by preparing more church workers. Their endowment now serves as the vehicle for that support, supplying perpetual scholarship funding for generations of future church workers. "We knew if we were successful, it would be continuous."
New endowments today require $50,000 in contributions before they start providing income for the intended designation, and sometimes it takes several years to reach that level. Starting early makes sense for classes hoping to make an impact sooner rather than later. Recently, the Class of 1971 established their endowment--and nearly had it fully funded--before their Golden Reunion event kicked off.
Endowments have become a vital revenue source for Concordia, providing a stable income stream to augment tuition and fundraising revenues in Concordia's financial model. In the recent 2021 university endowment report, President Dr. Bernard Bull emphasized the importance of these funds to Concordia's future. "Through the ongoing strengthening of her endowment, it is my prayer that the University will be well-positioned financially to continue to give witness freely and fully to Christ, the reason for our hope, no matter what societal headwinds may develop. Trusting fully and completely in the Lord in all circumstances, it is my objective to continue to increase the University's endowment as others are invited to follow."
Twenty-four different classes dating back to 1932 have endowments with a collective $1.8 million in market value. Those funds are joined with other endowments—more than 400 different funds overall—established by individuals, families, teammates, and friends of the university. The long-term benefit to Concordia encourages President Bull. "I thank God for the truly mission-minded generosity of our alumni. Alumni endowments are a powerful tool to not only support Concordia's mission but to make a significant and lasting impact, ensuring that this mission continues and expands for generations to come."
At the end of 2021, Concordia's overall institutional endowment exceeded $64 million, providing nearly $2.5 million annually in scholarships and support for faculty, programs and general operations.
Oetting notes that the Class of '62 also benefitted in unexpected ways from funding their endowment. "It was a wonderful bonding experience. It gave us a chance to remember our identity as a class of church workers, but also an opportunity to work together and live out that identity in a different way."
"I love what President Bull has said about challenging the secular world with our Christian mission," Oetting remarks. "Concordia is a beacon, not only because we have bright and successful graduates, but especially because of the way they are living, teaching, and preaching." Concordia's endowment will play a central role in continuing that powerful witness well into the future.
Concordia supporters who desire to establish or contribute to a named endowment are invited to contact the Office of Institutional Advancement by email at giftprocessing@cune.edu, phone at 402-643-7295 or by making an online gift here.