Education students collaborate with Shanghai third graders to learn about culture
Published by Logan Tuttle 1 year ago on Thu, Dec 19, 2019 9:16 AM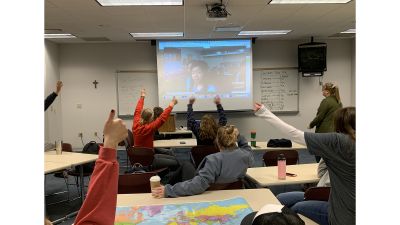 Photo courtesy Shanna OpferStudents in Shanna Opfer's Elementary Social Studies Methods class collaborated with third grade students in Shanghai to learn about the importance of culture. The two classes celebrated with a live video call Nov. 18.
Students in professor Shanna Opfer's Elementary Social Studies Methods class recently finished a project where they collaborated with Chinese third graders in Shanghai as a way to learn the importance of culture.
The project started in October when Opfer, Concordia's director of elementary education, and Casey Koschmeder, a third grade teacher at Concordia International in Shanghai, conducted a Mystery Skype in their classes, where the two groups of students had to ask each other yes/no questions to learn the others location. Opfer, who earned both her bachelor's and master's from Concordia in 2000 and 2006 respectively, said the idea for the project stemmed from a graduate class she took, where she was tasked with creating a globally networked (gNET) project.
"Research is clear that pre-service teachers who learn, do and experience new pedagogy are more likely to actually implement it in their future classrooms," Opfer said. "I wanted to not only expose my students to the idea of gNET projects and allow them to read about why they are beneficial for building 21st century skills and broadening elementary students' horizons, I wanted them to experience the development of their own 21st century skills and maybe even, more importantly, experience the thrill and joy of making a global connection."
Students in Opfer's class paired up and formed groups with two-to-three third graders and collaborated to learn about the similarities and differences of their cultures over the course of four weeks. Opfer's students would record videos of themselves, send them to their group members in Shanghai, who responded by sending their own videos. Concordia International in Shanghai is known as an outsource school, with students from all over the world attending. Many of the third-graders were fluent in English, which eliminated any language barriers.
"This experience has helped me see the importance of communication, cooperation, flexibility and being open minded," junior Brooke Baugh said. "These skills will help me in the future because it will push me to communicate effectively, and in a way that others can understand."
At the end of the four weeks, the two classes connected on a live video phone call to share each other's cultures through food and various games. Junior Trenton Williams said he appreciates how the education program has equipped him by giving him opportunities that aren't always available at other universities.
"This experience was something that I believe is very unique to Concordia. I have a bunch of education major friends at big universities across the country and none of them have done something like this," Williams said. "I knew when I came here that Concordia Nebraska was a very good school when it comes to education majors, and this experience is something that just emphasizes that statement even more."
Junior Jordan Metzger said the experience taught her how college students could learn from third graders and moving forward, how teachers could learn from their students.
"The third graders were always so excited to send us videos or talk with us," she said. "I think that this is a lesson because sometimes we get so caught up in, 'we have to do this part of the assignment' that we oftentimes forget to find the joy and that 'I get to' do the assignment. I think this is a lesson that we need to be reminded of a lot – to find the joy in everything, like these third graders did while teaching us about culture."
Senior Rachel Norem said the experience of collaborating with the third-graders was a good way to get out of the students' comfort zones to learn about other cultures.
"It's easy to forget how big our world is," she said, "and this project allowed us to remember that our world is so much bigger than our lives, our towns, our states, etc."
Junior Kennedy Mogul said she hopes to incorporate a lesson like this into her own classroom and allow her students to make connections with other students in a different part of the country.
"We are surrounded by a world full of opportunities and amazing learning experiences that we don't utilize," she said. "This project was a doorway for me and my thoughts about teaching. You don't have to teach from a book and keep it local."