Dual credit program provides affordability, flexibility
Published by Concordia University, Nebraska 2 years ago on Thu, May 21, 2020 1:14 PM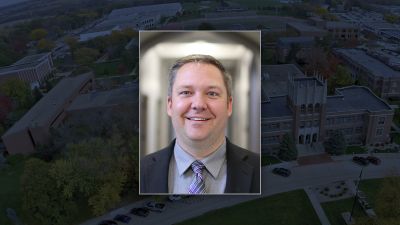 By Dr. Benjamin Stellwagen
Director of Dual Credit and School Partnerships
The simple concept behind dual credit programs can get lost in the terminology. Dual credit, dual enrollment, concurrent enrollment, early college, college online, Advanced Placement (AP), College Level Examination Program (CLEP), International Baccalaureate (IB) Diploma, all serve a similar purpose: to reward high-performing high school students with college credit.
Concordia's dual credit program has grown significantly from its 1970s roots as a unique collaboration with Saint Paul Lutheran High School in Concordia, Missouri, to an outreach opportunity for Lutheran High Schools envisioned by Dr. Bernie Tonjes in the early 2000s. The program now serves more than 1,100 students at 28 public, private, and home schools in 11 states and three countries.
Most face-to-face dual credit programs develop as a partnership between community colleges or universities and their local high schools, making Concordia's geographic breadth truly distinctive. That reach extends even further when accounting for the schools that Concordia's dual credit students eventually attend. Credit transferability, or whether a college course transfers to another institution, is an essential measure of program quality. Concordia's credit transfer rate is outstanding, bolstered as a private, four-year university, and is a testament to the rigor of instruction and the hard work done by students in the classroom.
The main reason dual credit has grown in popularity among schools, students and families nationwide have been to make the cost of an undergraduate education more affordable. At $90 per credit, Concordia's program amounts to an 80% to 95% discount on undergraduate tuition, depending on where the student attends post-secondary school. Not even the Kohl's clearance aisle competes with that deal!
Students are doing far more than saving money on college, though. They are starting their higher education journey with a number of credits in-hand, which opens up a world of flexibility for their collegiate experience. Since most dual credit covers general education requirements, students can get started sooner on courses in their primary field of interest or pursue a second major or minor. Athletes or performance students on tour may take lighter loads in-season to assist with workload management. Others use the flexibility to go on study-abroad trips or to take on part-time employment while in school. Some even graduate early, providing additional cost savings. There are additional benefits as well: many universities use the number of credits earned as the basis for priority registration and housing preferences, both of which can contribute positively to a student's experience on campus. All told, dual credit is a great way for high school students to gain exposure to college-level coursework and get a head start on their degree.
None of those benefits would be possible without the outstanding work of the dual credit instructors. This year, they expertly navigated the challenges posed by COVID-19, oftentimes flipping their classroom virtually overnight yet maintaining high expectations, student engagement and course integrity.
While impressive, it was also no surprise—the 99 cooperating teachers in Concordia's dual credit program are highly qualified professionals who have coupled university-level training with robust high school teaching experience. They work alongside 24 of Concordia's full-time faculty and collaborate on course design and objectives, assessment tools and pedagogy to deliver the Concordia experience to their students. Those interactions are part of a broader relationship between Concordia and these partner schools that includes discounts and scholarships for faculty continuing education, engagement with the admissions team and alumni, professional development opportunities and more.
Daniel Sievert, a 1994 Concordia graduate who serves principal at Lutheran High Northeast in Norfolk, Nebraska, has pointed out that part of his school's strategic plan includes increased engagement with Concordia as regional partners in Lutheran and educational ministry. Dual credit certainly helps strengthen such connections.
Some of the cooperating teachers are Concordia alumni and have had the unique experience of transitioning from advisee to colleague. Take the History department, for example. Preston Sunderman, a 2017 Concordia graduate, who is a former Student Body President and recent Nebraska District Teacher of the Year, has worked with his former mentors Professor Tobin Beck, a 1971 Concordia High School graduate, Dr. John Hink and Dr. Matthew Phillips. Dr. Phillips even hosted a video conference for his world history class, and all of them have intentionally reached out to ensure the courses are running smoothly.
"It is a comfort being able to call them and ask for help with resources or ideas for the classroom," Sunderman said. "They make it feel like a partnership."
Taylor Christian, a 2017 Concordia graduate and a teacher at Concordia Preparatory School in Towson, Maryland, echoed that sentiment, noting the privilege of working with the very individuals who helped support his current vocational path. He also highlighted the symmetry of his post-graduation transition.
"It wasn't that long ago that I took my first U.S. history classes with Dr. Hink in the basement of the science building, recently renovated as the Dunklau Center, at Concordia Nebraska," Christian said. "Now I teach dual enrollment U.S. History for Concordia Nebraska in the basement of a Concordia high school."
These connections have lasting value. Hink further elaborated on the benefits, saying that having alumni become dual credit colleagues makes communication easier, inspires immediate confidence in the level of instruction taking place off-campus and allows for shared insights on the classroom at their respective institutions.
"That natural exchange helps to facilitate the 'hand-off' that takes place educationally when students move from high school to college," Hink said. "Now if they could only transition quicker to using first names with each other. That might present a minor challenge, but it also suggests a potential slogan: 'Concordia Dual Credit: A First-Name, First-Rate Program.' Insofar as they assist in Concordia's Excel vision of staying connected, secure and distinct, the program and the sentiment surely fit."