Dr. Robert Hermann shares space with community through open house events
Published by Brooke Lange 4 months ago on Wed, Aug 31, 2022 2:23 PM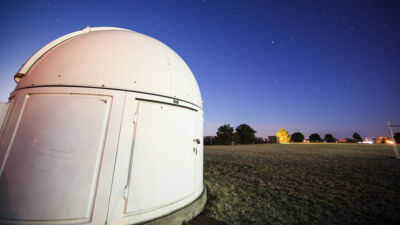 The Osten Observatory, located at Concordia University, will host its first open house Sept. 1 from 8:30 to 10 p.m.
Concordia's Osten Observatory will be hosting Open Houses this year with times available each month, starting this Thursday, September 1st.
Dr. Robert Hermann, director of the natural and computer sciences department, and main proprietor of the Osten Observatory describes the open houses as a fantastic opportunity for anyone who wants to learn a little more about space and feel a little smaller.
"There's something about looking through the eyepiece of a telescope and seeing craters on the moon or rings of Saturn right there that makes them more real to people," he said.
The dates are as follows:
Thursday, Sept. 1, 8:30 – 10:00 pm
Thursday, Oct.6, 8:00 – 9:30 pm
Thursday, Nov. 3, 7:30 – 9:00 pm
Thursday, March 2, 8:00 – 09:30 pm
Thursday, April 6, 8:30 – 10:00 pm
Thursday, May 4, 9:00 – 10:30 pm
This week, attendees will be able to observe the Moon, Saturn, a double star, and a nebula of gas around a dying star. There is no set program, so people may come and go at their convenience.
The observatory is located on the northeast corner of Concordia's campus on East Hillcrest Drive in Seward. There is not a paved path on the walk to the observatory, so attendees should be willing to walk through a field to access the facility. If there are clouds or excessive winds, the open house will be cancelled.
Despite his many years in the science department, Dr. Hermann still derives immense joy from sharing the marvels of space with others.
"I get to see the objects with my own eyes, and every time I do, I see something a little different," he said. "I love being able to share that moment with other people, to hear them 'ooh' and 'aah' as they look into the eyepiece as they experience the wonder of seeing these objects for themselves."