Dr. John Hink receives Concordia's Outstanding Teaching Award
Published by Logan Tuttle 1 year ago on Sat, May 8, 2021 10:32 AM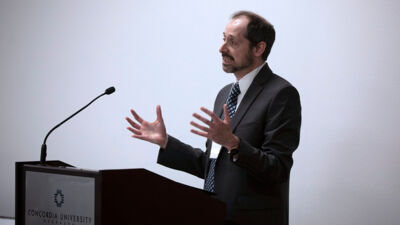 Dr. John Hink, associate professor of history, received the 2021 Outstanding Teaching Award May 7, during the University's Commencement Honors Dinner.
Dr. John Hink, associate professor of history, was honored with the 2021 Outstanding Teaching Award May 7, during Concordia's Commencement Honors Dinner.
The honor is given to a full-time faculty member who has been nominated by students. A committee of students, as well as faculty members who have previously received the award, selects the recipient. Presenting Hink with the award was Luke Blomenberg, student senate president and Nicholle Harstad, student senate vice president.
"Being recognized in this way is very humbling," Hink said. "I did not expect to get this award and was shocked when I was informed that I was receiving it. It is certainly meaningful in that this award comes from the students, as ultimately I am called to serve them."
Hink, who has taught at Concordia since 2012, is trained in immigration and constitutional history as his research examines the history of birth citizenship in the United States and attempts to eliminate or alter the citizenship clause of the Fourteenth Amendment to the Constitution. In addition to his teaching responsibilities, Hink also serves as the general education coordinator and is the director of the Luke Scholars, Concordia's honors program. Hink earned his Ph.D. from Northern Illinois University, his master of arts degree from Illinois State University and his bachelor's degree from Concordia University, Chicago.
"I love talking about big ideas and have from a young age," Hink said. "I was not always a great student, however, especially in high school. College really changed my life. First, I discovered that real learning required discipline. That changed my disposition towards education. More importantly, I realized the way that learning can open up your understanding of yourself, the world and all of God's creation."
Students nominating Hink remarked that he understands the minds of college students, and neither exhausts them nor condescends to them. Hink encourages scholars to grow by grappling with challenging concepts and forming their own opinions while providing them the tools with which to do so.
"He fosters an environment that encourages students to learn from their mistakes, encouraging intellectual honesty and ingenuity," the nomination states. "He looks at everything through a Christian lens and does a great job of helping students understand how they can apply the information. He perfectly balances intelligent and thought-provoking remarks with witty humor to keep everyone engaged."
Hink said in his classes, he tries to share his passion for his discipline and knowledge in general with students, while encouraging them so they get the most out of their Concordia education.
"Working with college students offers blessings far greater than this award, with all due respect," he said. "Each year, I sit at graduation and watch the students walk the stage. As they receive their diplomas, I get to say, 'I had a part in that.' I am blessed to be in a vocation that allows me to shape the minds and even the lives of young people."
Sometimes, he said, that influence comes from the ideas that are explored in the classroom, and other times it's through mentoring and discussions that take place outside of class.
"I hope and believe these interactions are beneficial to my students," Hink said. "I know they are to me, and I am grateful to my students for allowing me to carry out my calling."