David Carrasco '20 leads marine research team in Greece
Published by Logan Tuttle 1 year ago on Fri, Aug 20, 2021 10:03 AM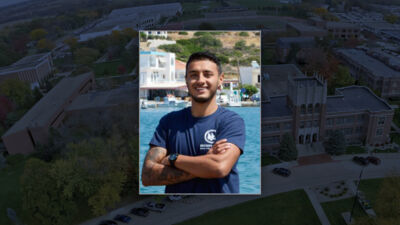 David Carrasco is making the most of his internship at the Archipelagos Institute of Marine Conservation in Lipsi, Greece, where he's leading a research team.
It may be a year later than originally planned, but David Carrasco is making the most of his internship at the Archipelagos Institute of Marine Conservation in Lipsi, Greece.
Carrasco, a 2020 Concordia graduate, is earning a master's in environmental management at the University of San Francisco (USF), where he also works at the university's Geospatial Analysis Lab. He was supposed to complete his internship in Greece last summer, but the COVID-19 pandemic put a hold on those plans. Thankfully, the institute saved a spot for him this summer, where he's working on coralligenous habitat research, among other projects.
"These habitats are a very unknown ecosystem that is mainly formed by sponges, encrusting algae and corals," Carrasco, who double majored in biology and environmental science, said. "These ecosystems provide major ecosystem services such as habitat, carbon sequestration and provide resources for fishing activities."
The problem, however, is because these habitats are widely found in deep waters and are mostly unknown to researchers, they are not very well studied and more importantly, properly protected, Carrasco said. This summer, Carrasco is leading a team to research these habitats, including an expedition departing in September.
"During this expedition, we will conduct biodiversity assessments and habitat mapping using remotely operated vehicles to help us understand how to best protect these ecosystems from environmental stress that's caused or influenced by people," he said. "Harmful fishing activities and abandoned fishing equipment are major threats to these ecosystems, so the goal of the organization is to develop a marine protected area where these ecosystems are found so that we do not lose an ecosystem that we barely know anything about."
Although his expedition cuts into the school year, Carrasco's USF professors have been supportive of his work and some of them have even tailored their classes for him to attend virtually while he completes his research.
"This is a major opportunity that I could not turn down," he said. "Life takes a lot of turns and my goal has always been to work in the field of marine conservation, but this goes beyond whatever I could imagine for myself doing at this point in time."
Timing has seemed to line up just right for Carrasco's side, even when he came to the United States from his native Bogotá, Colombia.
"I had the goal to be in the states for six months before attending college as a way to learn English," he said. "However, Concordia initially offered me an opportunity to play football (soccer), and when I visited, I felt at home right away. The small school experience made me feel welcome and my unstable English at the moment seemed to be no problem, so I felt like it was a great place for me to grow and learn, as well as to contribute with my energy and motivation."
After meeting Dr. Jen Fruend, who would later become his advisor, Carrasco said he knew Concordia would be a great place to connect faith and science, two of his life's passions. While on campus, Carrasco said he learned how to focus his work ethic and build valuable relationships with others, two things he'll definitely need for his vocation, he said.
"The scientific input from professors such as Dr. Fruend, Dr. Joe Gubyani and Dr. Joel Helmer, and more, were essential in inspiring me to continue to explore the natural world that God provided us to guard and understand."
He also credits the ability for students to have first-hand experiences with conservation efforts while visiting Belize and Costa Rica, and learning GIS tools at Concordia to help them stand out when applying for grad school.
"Concordia prepared me in a fantastic manner," he said. "I'm applying what I learned there to both my master's degree and through my work at Archipelagos."