Daniel Jarrett '02 serves Christ and community through wakeboard ministry
Published by Concordia University, Nebraska 3 years ago on Mon, Aug 3, 2020 8:38 AM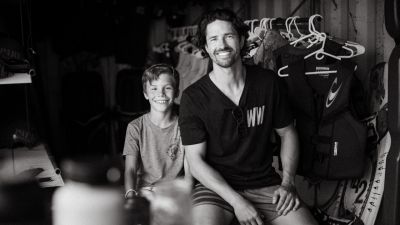 Daniel Jarrett '02 leans on his passion for sharing Christ and wakeboarding by opening a chapter of WakeWell, a national ministry aimed at wakeboarders and surfers, in his hometown of Rockford, Illinois.
As a biology major, Daniel Jarrett '02 was set to become a physician's assistant after graduating from Concordia. However, in the summer before his senior year, he was urged by friends to participate in a modeling audition. That audition ended up launching Jarrett's career, where he modeled for companies like Macy's, Target and more.
While living in New York, Jarrett longed to be closer to family in Illinois and be involved with water skiing and wakeboarding — his lifelong passion that came from growing up in a family whose summer vacations always included being on the water. He was still in New York when he started reaching out to cable parks—dedicated facilities for water-skiers and wakeboarders—to learn how he could open his own.
"With the combination of a lifelong love for waterskiing—especially wakeboarding, and with a watchful eye on the progression of cable parks all over the world—my wife and I made it our mission to bring this amazing sport and opportunity to Rockford," Jarrett says on the park's website.
With a clear direction in mind, Jarrett contacted the Rockford Park District in his hometown of Rockford, Illinois and began his journey to develop West Rock Wake Park at Levings Lake, which opened in 2014. Opening the park at Levings Lake has provided Jarrett an opportunity to further his mission of providing experiences of a typically cost-expensive sport to those who might not otherwise be able to afford it.
Jarrett has also been heavily involved with restoring and caring for the lake. He's leaning on the knowledge he gained from Concordia to apply for government grants and has been working with local fishermen to understand the fish population as he helps develop the watershed surrounding the lake. Floating islands have been installed to manage the buildup of sedimentation and countless hours have been spent to discover what resources are available—both human and material—to continue improving the lake's environment.
In addition to his stewardship of the land, Jarrett is passionate about sharing his faith with others. He has opened a Rockford chapter of WakeWell, a ministry that connects Christian wakeboarders and surfers to provide the hope in Christ in the wake culture, where members meet weekly for devotions and then ride together.
"As I serve on the board of directors, I can see the impact this ministry is having as it brings the love of Christ to everyone in our community of Rockford and also our community of wakeboarders and water-skiers," Jarrett says.