Concordia Theatre Presents: Twelfth Night
Published by Brooke Lange 1 year ago on Tue, Nov 8, 2022 2:26 PM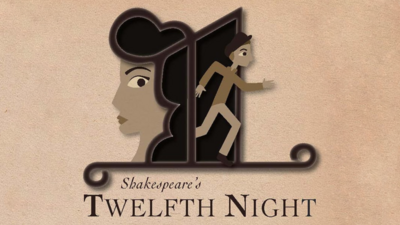 Concordia University Nebraska performed three showings of Twelfth Night from October 28-October 30.
The play follows twins Viola and Sebastian, who were separated in a shipwreck. Each thinks the other has drowned. While Viola is stranded in Illyria, she chooses to disguise herself as a man, Cesario. Eventually, Sebastian, who is still alive, ends up in Illyria, while Viola is still dressed as Cesario. Multiple cases of mistaken identity and various love entanglements are carried throughout this comedy.
This was Concordia's first full length Shakespearean play since 2013. With a plot that is complex as this one, Bryan Moore, Director of Concordia's theatre program, knew that he would have his hands full. But he felt it was a worthy undertaking. "This summer, I rediscovered how Shakespeare's plays could be applicable and engaging to our current audiences and situations," said Moore.
The play succeeded in that regard. While acting as your sibling is not completely common, life is full of confusing love triangles, mixed signals and uncomfortable situations.
The actors made that reality accessible by appropriate vocal inflection and a deep understanding of the roles, and clever, occasionally boisterous physical comedy. Moore acknowledged this. "Shakespeare's language and storylines can take more effort to follow and understand. The students learned the importance of taking more time to understand what was being said and how it should be presented, so we can share the story as clearly as possible to our audience."
There was also significant thought put into the placement of the characters. "Shakespeare doesn't have any stage directions, except for "enter" and "exit" so in the scenes where people are fighting each other, or running around and hiding behind things, that's all stuff we came up with as the cast and crew," said junior, Chloe Brown, who was stage manager of the production.
"Overall, it was an excellent collaboration of the cast and crew," said Moore.
Cast and Crew for Twelfth Night includes:
Cast
Nathan Leonard, senior, Topeka, Kan., playing Duke Orsino
Colin Thuringer, sophomore, Sioux Falls, S.D., playing Valentine and Officer
Sara Erickson, freshman, Omaha, Neb., playing Viola
Michelle Hernandez, junior, Schuyler, Neb., playing Sea Captain, Officer, and other roles
Hunter Remington, freshman, Bristow, Okla., playing Sir Toby Belch (and light design)
Faith Jonas, senior, Saint Louis, Mo., playing Maria
Adam Prince, junior, O'Fallon, Mo., playing Sir Andrew Aguecheek
Haley Compton, senior, Papillion, Neb., playing Feste
Elizabeth Ascher, sophomore, Sioux, Falls, S.D., playing Olivia
Laura Hellwege, senior, Edmonton, Alberta, Malvolio
Micah Henschen, sophomore, Bancroft, Neb., Antonio
Owen Anson, freshman, Staplehurst, Neb., Sebastian
Harley Storie, sophomore, Valley Park, Mo., Fabian and Attendant
Crew
Chloe Brown, junior, Concordia, Mo., Assistant Director/ Stage Manager AND Props
Alexa Hatcher, Costume Design
Tiffany Hovendick, Scene Design
Rebekah Guilford, senior, Lincoln, Neb., Music Composition
Robert Olson, Scenery Crew Head Supervisor
Eleanor Clausing, junior, Seward, Neb., Lead Scenery Technician
Ernest Clausing, freshman, Seward, Neb., Lead Scenery Technician
Esther Langness, junior, Englewood, Colo., Lead Scenery Technician
Anne Aschmann, sophomore, Seward, Neb., Costumes, Hair & Makeup
Lydia Eliason, sophomore, Grand Island, Neb., Costumes, Hair & Makeup
Julie Oetting, sophomore, Belvidere, Ill., Costumes, Hair & Makeup
Kayla Korb, freshman, Burley, Idaho, Backstage Crew
Hannah Kruse, freshman, Hutchinson, Minn., Sound Operator
Parker Reece, sophomore, McCordsville, Ind., Light crew and board operator
Interested in getting involved in theatre at Concordia? Learn more here.