Concordia's Plum Creek Literacy Festival to feature Coretta Scott King Illustrator Award Exhibit
Published by Brooke Lange 3 months ago on Tue, Aug 30, 2022 3:25 PM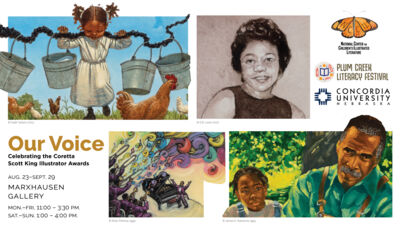 As part of Concordia Nebraska's renowned Plum Creek Literacy Festival, the campus will host a special touring exhibition titled "Our Voice: Celebrating the Coretta Scott King Illustrator Awards" through September 29, 2022. Organized and toured by the National Center for Children's Illustrated Literature (NCCIL), this exhibit features the largest collection of Coretta Scott King Illustrator Medal and honor-winning art ever assembled.
The exhibit is located in the university's Marxhausen Gallery in Jesse Hall and is free and open to the public Monday through Friday 11 a.m. to 3:30 p.m., as well as Saturday and Sunday from 1 p.m. to 4 p.m.
"Every year, we are thankful we are able to host an exhibit as part of the festival. The exhibits typically draw in community members and those who appreciate all kinds of art," said Dr. Dylan Teut, director of the Plum Creek Literacy Festival. "This year's exhibit features art of all kind from so many gifted creators. The best thing about these exhibits is, even if you aren't a picture book reader, there is such a level of depth and appreciation for the art itself."
A gallery talk is scheduled for Sunday, September 11 at 1:00 p.m. Dr. Teut will share the history of the Coretta Scott King award and take participants through a guided tour of the gallery. Dr. Teut will also speak about the books featured and the illustrators who made each image, diving into the rich aspects the award and the artwork.
Participating artists in chronological order include: George Ford (recipient of the first Coretta Scott King Illustrator Award conferred in 1974), Tom Feelings, Ashley Bryan, Jerry Pinkney, John Steptoe, Leo & Diane Dillon, Peter Magubane, Pat Cummings, Jan Spivey Gilchrist, Brian Pinkney, Kathleen Atkins Wilson, Faith Ringgold, Floyd Cooper, Javaka Steptoe, R. Gregory Christie, Christopher Myers, Bryan Collier, E. B. Lewis, Shane W. Evans, Colin Bootman, Nancy Devard, James E. Ransome, JoeSam, Synthia Saint James, Michele Wood, Charles R. Smith, Daniel Minter, Frank Morrison, Baba Diakité, Reynold Ruffins, Kadir Nelson, Christian Robinson and Sean Qualls.
Founded in 1969 by Mabel McKissick and Glyndon Greer at the American Library Association (ALA) Annual Conference in Atlantic City, New Jersey, The Coretta Scott King Book Awards are given annually to outstanding African American authors and illustrators of books for children and young adults that demonstrate an appreciation of African American culture and universal human values. The awards commemorate the life and work of Dr. Martin Luther King, Jr., and honor his wife, Mrs. Coretta Scott King, for her courage and determination to continue the work for peace and world brotherhood.
The award-winning Plum Creek Literacy Festival, founded in 1996, seeks to encourage a love of reading, writing and books by bringing nationally renowned authors and illustrators to Nebraska who host interactive workshops and keynotes for school children and adults.

This year's festival will feature authors and illustrators include Caroline Arnold, Tim Bowers, Tamara Bundy, Maryann Cocca-Leffler, Lulu Delacre, Guy Francis, Keiko Kasza, David Macaulay, Jennifer Nielsen, Shanah Opfer, Jerry Pallotta, Amy Parker, Matthew Reinhart, Pam Muñoz Ryan, Antonio Sacre, Roland Smith, James Solheim, Kerron Stark, Jason Tharp and Jennifer Ward. Literacy experts Dr. Lauren Gatti, James Ginal and Dr. Joan Jacobs will also participate in the event.
The festival includes a book pre-sale on September 7, a children's day on September 23 featuring special presentations and activities for students and an adult conference on September 24 where authors, illustrators and several literacy experts speak on a variety of topics.
Since 2000, the Marxhausen Gallery of Art has hosted more than 30 artists and art professionals. Through a diverse mix of exhibitions, performances, screenings, and conversations, the visiting artist program provides a public forum for the presentation and contemplation of contemporary art, curatorial practice and scholarship. Through discourse, studio critiques, informal discussions and public lectures the program provides students with direct access to art professionals working across disciplines.
Learn more about the Plum Creek Literacy Festival at cune.edu/plumcreek.