Concordia's Osten Observatory hosts open houses
Published by Concordia University, Nebraska 9 years ago on Wed, Sep 5, 2012 11:55 AM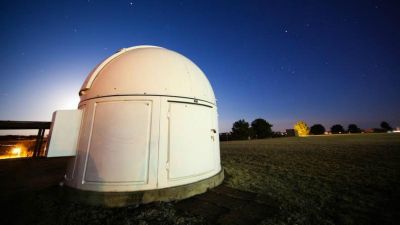 The celestial bodies were visible through Concordia's Osten Observatory during its three open houses this fall. The observatory was open to the public the evenings of Sept. 6, Oct. 4 and Nov. 1.
Visitors were able to view a double star and a large cluster of stars, a nebula formed from the remains of a dying star and the nearby Andromeda galaxy.
"We just cycle through the objects we're looking at, so everyone gets a chance to see every object," said Dr. Robert Hermann, professor of physics. "People get a chance to hear about the objects they're looking at and to ask astronomy questions."
The observatory and 16-inch computer-controlled telescope were gifted to Concordia in 2002 by 1933 alumnus Reuben Osten and his wife, Doris. The observatory is located at the northeast corner of campus along East Hillcrest Drive.