Concordia's Concert Band to Perform Home Concert
Published by Brooke Lange 1 week ago on Tue, Mar 14, 2023 4:18 PM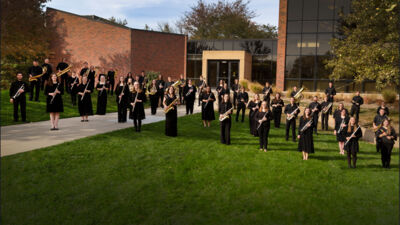 Concordia's Concert Band will perform their home concert on March 19th at 3pm in Weller Chapel upon getting back from their eleven-day long tour where they had stops in Missouri, Illinois, Tennesse, Georgia, and Florida.
The concert will offer different selections from a variety of genres including pieces from Robert Sheldon, Jonathan Dove, and John Philip Sousa.
As Concordia University's premiere instrumental ensemble, the University Concert Band is deeply rooted in the more than 100-year history of instrumental musical ensembles at Concordia. Concordia's first dedicated music professor, Karl Hasse, organized the first instrumental music ensemble in 1906, and the University Concert Band continues to build on the legacy and tradition of excellence in instrumental music at Concordia. The Concert Band keeps an active performance schedule both on and off campus, having performed concerts in more than 20 states in the past 20 years. Recently the ensemble toured to Alabama, Indiana, Texas, the Pacific Northwest, Florida, Illinois and Iowa. In addition to the ensemble's music being featured on broadcasts of "The Lutheran Hour," the Concert band has released two CD recordings, In the Spring and Winds from the Prairie.
Members of Concordia's 2023 Concert Band Include:
Flute
Kalie Dalen, Dallas Center, Iowa
Elise Leapley, Waukesha, Wis.
Amanda Munzert, Edwardsville, Ill.
Emilee Price, Columbus, Neb.
Psalm Richters, Utica, Neb.

Oboe
Walker Ranada, McKinney, Texas

Clarinet
Arabella Blakeley, Havana, Ill.
Hannah Ethridge, Fulda, Minn.
Ellie Lehr, Omaha, Neb.
Katheryn Rice, Bellevue, Neb.
Isabella Schmid, Rockford, Ill.
Caleb Zeckzer, New Haven, Ind.

Bass Clarinet
Olivia Leising, Arapahoe, Neb.
Julia Witt, Elwood, Neb.

Alto Saxophone
Nathan Hoft, Eldridge, Iowa
Hope Nelson, Rochester, Minn.
Isaac Weander, Norfolk, Neb.

Tenor Saxophone
Nathan Birtell, Holdrege, Neb.

Baritone Saxophone
Logan Walgate, St. Charles, Mo.

Trumpet
Samuel Dunbar, Utica, Neb.*
Matthew Feusse, Clearwater, Neb.*
Bekah Guilford, Lincoln, Neb.
Madeline Peters, Sioux Falls, S.D.

Horn
Nathan Feusse, Clearwater, Neb.
Kayla Kisker, Platte City, Mo.
Alannah Stahl, Saginaw, Mich.*

Trombone
Nathan Demlow, Mendota Heights, Minn.
Miriam Ganoung, Halsey, Neb.
Matthew Guilford, Lincoln, Neb.
Joshua Jurchen, Seward, Neb.
Jackson Munter, Ithaca, Neb.*
Andrew Pfeiffer, Bettendorf, Iowa
Andrew Schroeder, Kendallville, Ind.*

Euphonium
Daniel Oberdieck, Lanesville, Ind.
Lydia Schultz, Bay City, Mich.

Tuba
Tyler Scholz, Lincoln, Neb.*
Colin Thuringer, Sioux Falls, S.D.

Percussion
Garrett Erickson, Seward, Neb.
Ethan Gillespie, Random Lake, Wis.
Morgan Herrera, Omaha, Neb.
Timothy Mars, Cody, Wyo.
Shasta Tonniges, York, Neb.
Aaron Wulff, St. Charles, Mo
*University Brass Ensemble